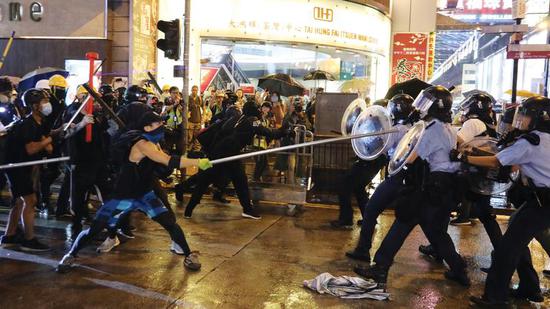 Radical protesters attack police officers with metal rods at an unauthorized assembly in Hong Kong. (Photo/China Daily)
The High Court on Tuesday amended an interim injunction order on doxxing and harassment against police officers and their families to extend protection to special constables, according to a government statement issued on Wednesday.
Nearly 100 special constables from the Correctional Services Department were appointed in mid-November to enhance manpower and strength of the Hong Kong Police Force amid the ongoing unrest stemming from the extradition bill incident.
The injunction restrains people from unlawfully and willfully using, publishing, communicating or disclosing to any other person the personal data of any police officers, special constables and their family members.
It also forbids people from intimidating, molesting, harassing, threatening, or pestering these law-enforcers and their families, or assisting and inciting others to commit such acts.
Since violent protests broke out in the financial hub in June, police officers' personal information has been unlawfully disclosed and widely published on the internet, leading to harassment of them and their families. Some even received letters threatening to hurt them brutally.
The Secretary for Justice has applied to the High Court for an injunction to restrain people from unlawfully and willfully conducting such serious intimidation and harassment.
An interim injunction order was granted on Oct 25 to protect police officers and their families.