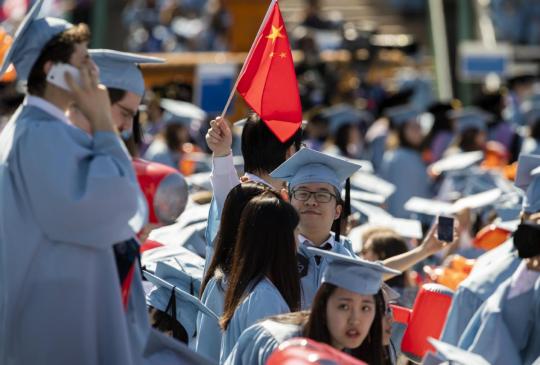 Chinese students attend a graduation ceremony at Columbia University in New York in May. (WANG YING/XINHUA)
The Chinese Embassy in the U.S. is commemorating the 40th anniversary of China-U.S. overseas student exchanges in Washington D.C. on Thursday.
The celebrations come amid fears of tighter U.S. visa policies on Chinese students under the Trump Administration.
Chinese officials said at one celebration event that Beijing is hoping to boost people-to-people exchanges with the U.S.
"The academic and scientific exchange between our countries is an important way to create a better understanding of one another," wrote Former U.S. President Jimmy Carter in a congratulatory letter for the event.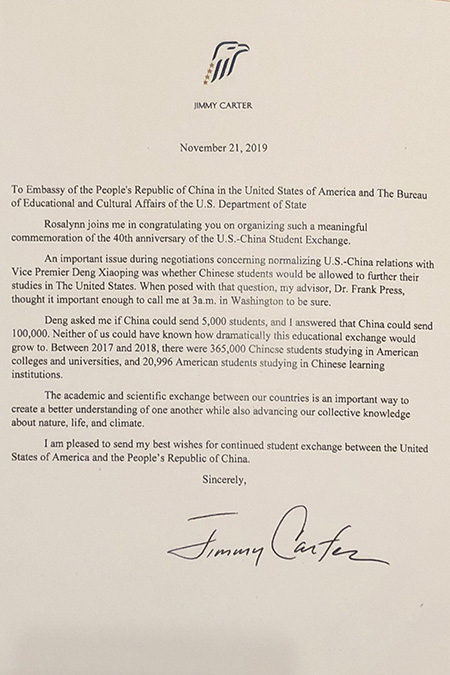 In 1978, Carter's adviser Frank Press led a delegation to China and started negotiations on normalizing China-U.S. relations. Sending Chinese students to the U.S. for academic exchanges became one of the important issues.
The first batch of 52 overseas Chinese from the People's Republic of China arrived in the United States in December 1978. These people witnessed the establishment of the diplomatic relations between China and the U.S.
Since July 2018, the U.S. State Department has restricted visas to Chinese graduate students studying sensitive research fields to one year, with the chance to reapply every year.
The move rolls back an Obama-era policy that allowed Chinese citizens to secure five-year student visas.
But Trump's remarks at the G-20 Summit in June 2019, signaled greater openness.
"We want more Chinese students," Trump said during summit.
"We want to have Chinese students [go] to our great schools and great universities. They are great students and tremendous assets," Trump said on the sidelines of the Group of 20 summit in Osaka, Japan.
Chinese ambassador to the U.S. Cui Tiankai is also expected to deliver a speech at the event later on Thursday.