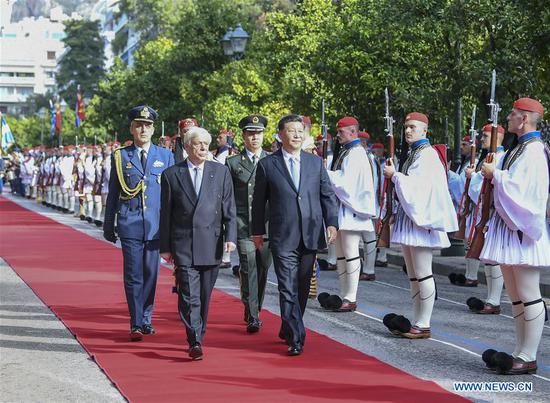 Chinese President Xi Jinping attends a welcome ceremony held by Greek President Prokopis Pavlopoulos before their talks in Athens, Greece, Nov. 11, 2019. (Xinhua/Xie Huanchi)
Special: Xi visits Greece, attends BRICS summit in Brazil
Chinese President Xi Jinping and his Greek counterpart, Prokopis Pavlopoulos, agreed on Monday to contribute the wisdom of ancient Eastern and Western civilizations to building a community with a shared future for mankind.
To that end, the two presidents agreed to consolidate political mutual trust, deepen practical cooperation and promote dialogue among civilizations during Xi's three-day state visit to Greece.
President Xi said that China will never ever seek hegemony, explaining that the Chinese people have neither such genes in their culture nor such ambitions in modern days.
Greek President Pavlopoulos said his country is strongly against such theories as "clash of civilizations" or "a strong country is bound to seek hegemony."
He said China's rise is an example to refute such theories.
The two leaders oversaw the signing of 16 deals covering a range of industries in Greece including a plan to turn The Port of Piraeus near Athens into the biggest in Europe.
The agreements also covered energy, agriculture, justice, culture, education, media and finance as the two countries seek to build on their already-close relations.
President Xi is in Greece before attending the 11th BRICS summit from November 13 to 14 in Brasilia, Brazil. His state visit to Greece is the first by a sitting Chinese president in 11 years.
The trade volume from the 2019 China International Import Expo (CIIE) has increased by over 250 percent compared with last year's, Xi pointed out during his meeting with Greek Prime Minister Kyriakos Mitsotakis on Monday.
China will continue to open up its doors, while bringing more opportunities for countries including Greece, President Xi said, stressing that communication between civilizations and win-win cooperation are two things that tie the nations together.
China's COSCO Shipping is the majority shareholder in Piraeus, Europe's sixth largest container port, and is planning a further $660 million investment to transform its capacity as a link between Europe and Asia.
Mitsotakis said Greece will continue to take an active part in building the Belt and Road Initiative (BRI) which aims to create better trade links between east and west.
Other business cooperations between the two nations include energy, with China's State Grid a minority shareholder in Greece's energy network, and in finance where Chinese banks are developing their presence.
People-to-people exchanges also need to be deepened so as to bring out more joint research in the high-tech sector, President Xi said.
The cooperation between China and central and eastern European countries enrich the comprehensive strategic partnership between China and Europe, he stressed, hoping to further push forward ties between China and the European continent.
Mitsotakis first spoke highly of China's economic development, calling it "unique, and a miracle of human society." He then expressed appreciation to China for its assistance during Greece's financial crisis.
Mitsotakis is expected to attend next April's China-CEEC leaders' meeting, whose mechanism Greece had accepted as a full member early this year.
A joint statement regarding the strengthening of the comprehensive strategic partnership between China and Greece was published after the meeting.