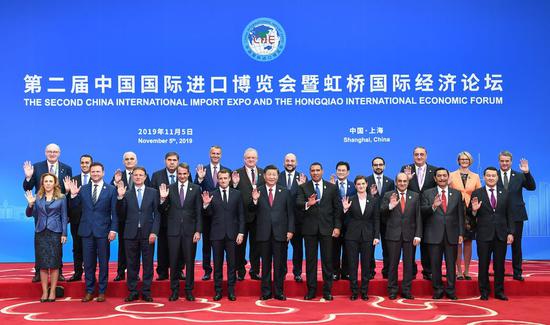 Chinese President Xi Jinping and foreign leaders pose for a group photo before the opening ceremony of the second China International Import Expo (CIIE) in Shanghai, east China, Nov. 5, 2019. (Xinhua/Xie Huanchi)
Special: The Second China International Import Expo
Leaders from countries like France, Jamaica, Serbia and Italy as well as international organizations like the World Trade Organization (WTO) hailed on Tuesday China's commitment to higher-level opening up.
The foreign leaders' remarks were made here at the opening ceremony of the second China International Import Expo (CIIE), after Chinese President Xi Jinping pledged in his speech that China will promote higher-level opening up.
French President Emmanuel Macron hailed China's promise of higher-level opening up, saying that China's reform and opening up policy has been "a turning point" in the history of the world and a great advantage of China.
China's success attributes to its own efforts and also to globalization, as China has benefited from and shaped the process of globalization after joining the World Trade Organization (WTO), Macron said.
The French president calls for upholding the multilateral trading system to address the current common problems including imbalance, adding that countries should work in the spirit of cooperation and openness.
Jamaican Prime Minister Andrew Holness said that the CIIE, embodying an inclusive vision, is "a clear demonstration of China's commitment to strengthen cooperation in global trade and investment."
"Jamaica believes in a multilateral rules based system as necessary for our economic development," Holness said, adding that his country share China's aspirations for "a more open, inclusive, balanced, and win-win economic globalization for the common development and prosperity of all countries."
The prime minister said he believes that the second CIIE will open new doors for increased partnerships in international trade and investment, while calling for a collaborative approach in the use of technology and innovation in business engagements among countries.
Noting that world economy and global trade are at a historic crossroads, Serbian Prime Minister Ana Brnabic said that just as China does, the Eastern European country has been pursuing a policy of openness and cooperation instead of barriers and closed-door policy.
Trade protectionism, tariff barriers or even trade wars will only make problems worse and deteriorate our societies, Brnabic said, noting that China's economic development is the best example to show to the world that the 21st century international economy can be best promoted through openness.
The prime minister said that China's higher-level opening up will not only benefit itself, but also offer opportunities to the whole world.
The second CIIE demonstrates enormous benefits of international trade and exchange opportunities, Italian Foreign Minister Luigi Di Maio said, hailing China's commitment to higher-level opening up.
China has been an important contributor to the development of effective economic multilateralism, the minister said.
Director-General of the WTO Roberto Azevedo said that the second CIIE demonstrates China's intent to make import promotion an ongoing process, creating opportunities for businesses, as well as consumers in China and around the world.
"Our economies have become closely intertwined," Azevedo said. "The optimal way forward is for countries to work together. By doing so, they can set out a credible path towards a more stable, more predictable trading system and international economy with more integration."
A total of 155 countries and regions as well as 26 international organizations are attending the second CIIE, which is held in Shanghai from Nov. 5 to Nov. 10.
The exhibition area covers around 360,000 square meters. Sixty-four countries will host country exhibitions and 3,893 companies are attending the business exhibitions.