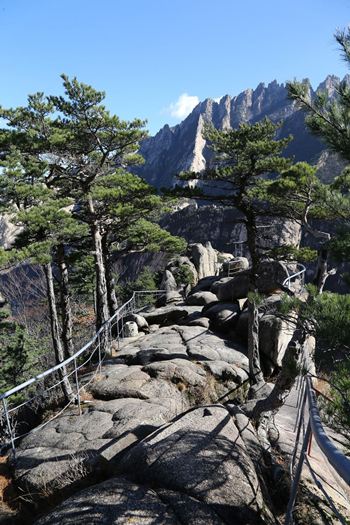 Photo taken on Nov. 9, 2018 shows the scenery of the Mount Kumgang scenic area. (Xinhua/Cheng Dayu)
South Korea on Monday offered to hold working-level talks with the Democratic People's Republic of Korea (DPRK) to discuss issues on the DPRK's scenic resort of Mount Kumgang.
Seoul's unification ministry spokesman Lee Sang-min told a press briefing that the government and Hyundai Asan Corp., which participated in the inter-Korean tour project, sent notices earlier in the day to the DPRK's counterparts through the inter-Korean liaison office in the DPRK's border town of Kaesong.
With the notices, the South Korean side proposed working-level talks with the DPRK to discuss issues on the halted tour by South Koreans to the Mount Kumgang resort, including the issue concerning Mount Kumgang raised by the DPRK side.
The tour by South Koreans to Mount Kumgang, launched in 1998, has been suspended since a South Korean female tourist was shot dead in 2008 by a DPRK soldier after allegedly venturing into off-limit areas.
The unification ministry spokesman said in the press briefing that resolving all inter-Korean issues through dialogue and consultations has been an unwavering government stance of South Korea.
Lee said South Korea would seek creative ways to resolve the Mount Kumgang issues considering the international situation, inter-Korean relations progress and public sentiment.
He noted that the Mount Kumgang area has been a space not only for the inter-Korean tour project, but also for the reunion of the separated Korean families, and social and cultural exchanges between the two Koreas.
Asked about whether having discussed the issue with the United States, Lee said the notice delivery was not subject to an issue to be discussed with the U.S. side though he said denuclearization and lasting peace settlement should be achieved through close cooperation between Seoul and Washington.
He added that South Korea does not consult with the United States on all inter-Korean issues.