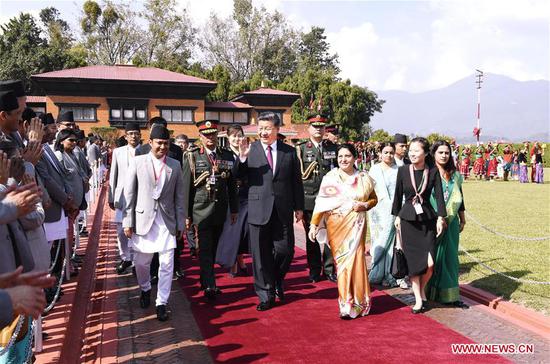 Nepali President Bidya Devi Bhandari hosts a grand farewell ceremony for Chinese President Xi Jinping at the airport in Kathmandu, Nepal, Oct. 13, 2019. (Xinhua/Gao Jie)
Special: Xi Attends Informal Meeting with Indian PM, Visits Nepal
China and Nepal issued a joint statement on Sunday, agreeing on more practical cooperation in the new phase of bilateral relations.
The two sides elevated their bilateral relations to Strategic Partnership of Cooperation Featuring Ever-lasting Friendship for Development and Prosperity, highlighting three aspects in their future cooperation.
Such a new positioning helps chart the course for future development of bilateral relations, Chinese State Councilor and Foreign Minister Wang Yi noted on Sunday.
He concluded that in the first state visit to Nepal by a Chinese head of state in 23 years, President Xi Jinping and the leaders of Nepal jointly planned for the future development of bilateral relations, and witnessed the signing of 20 cooperation documents concerning various areas of the national interest and people's livelihood.
"Over the past more than half a century since the establishment of China-Nepal diplomatic ties, the two countries have respected, trusted and supported each other, serving as an example for countries with different sizes to live in harmony," said Wang.
The two sides agreed to take the Belt and Road Initiative (BRI) as an opportunity to deepen mutually-beneficial cooperation in all fields in a comprehensive manner.
They decided to intensify implementation of the Memorandum of Understanding on Cooperation under the BRI, and vowed to advance the construction of trans-Himalayan Multi-Dimensional Connectivity Network.
They also reiterated their commitment to expanding cooperation on the Kathmandu-Pokhara-Lumbini Railway Project.
Further cooperation including the Zhangmu/Khasa port, the Lizi/Nechung port, and the three North-South corridors in Nepal were also mentioned in the statement.
Firm commitment to multilateral trading regime
The two sides will hold comprehensive discussions to strengthen trade relations, and China will take positive measures to increase Nepal's exports to China.
China also welcomed Nepal to participate in the National Exhibition of the Second China International Import Expo in Shanghai in November.
Nepal will facilitate Chinese banks to open their branches and other financial services in Nepal.
Respect each other's territorial integrity
The Chinese side reiterated firm support to Nepal in upholding the country's independence, and respecting Nepal's social system.
The Nepali side reiterated its firm commitment to the one-China policy, acknowledging that Taiwan is an inalienable part of the Chinese territory and Tibet affairs are China's internal affairs.
Good-neighborly and friendly cooperation
The good-neighborly and friendly cooperation between the two countries has also yielded new results, Wang said.
President Xi said the two sides will build an all-around cooperation pattern, enhancing their cooperation in trade and investment, post-earthquake reconstruction, and energy and tourism, according to Wang.
China has pledged to continue supporting Nepal in its post-earthquake reconstruction, and provide support and assistance for the improvement of local people's livelihood, Wang said, adding that the two sides have also agreed to expand exchanges and cooperation in education and youth development at local levels.