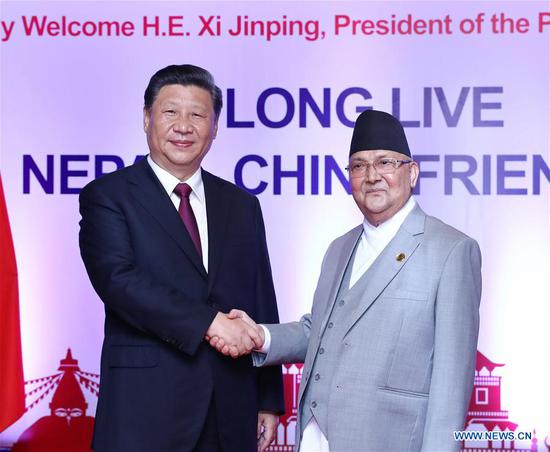 Chinese President Xi Jinping holds talks with Nepali Prime Minister K.P. Sharma Oli in Kathmandu, Nepal, Oct. 13, 2019. (Xinhua/Ju Peng)
Special: Xi Attends Informal Meeting with Indian PM, Visits Nepal
Chinese President Xi Jinping on Sunday stressed that any attempt to split China and the Chinese people in any region will be crushed and that foreign forces backing any such attempt is doomed to fail.
The remarks were made as Xi met in Kathmandu with Nepali Prime Minister K.P. Sharma Oli, who said his country strongly supports China in safeguarding its sovereignty and territorial integrity and stands firm in upholding the one-China policy.
"The Nepali government will not tolerate any force to use our territory for separatist activities against China," Oli said.
Xi thanked Nepal for its staunch support on the one-China policy and issues concerning China's core interests, while stressing importance for two countries to strengthen joint efforts under the Belt and Road Initiative, advance the construction of the trans-Himalayan Multi-Dimensional Connectivity Network, uphold multilateral trade and boost cultural exchanges.
Hailing Nepal and China as true friends and partners, Oli said the two countries have always respected each other, supported each other and never interfered in the internal affairs of the other, adding that their traditional friendship is unbreakable.
No matter how external circumstances change, Nepal's friendly policy toward China as well as the development of their friendly relations will remain unchanged, Oli said.
On the same day, Xi met with co-chairman of the Nepal Communist Party Pushpa Kamal Dahal, also known as Prachanda, praising him for injecting new impetus into China-Nepal relations.
Xi arrived in Nepal on Saturday for a state visit from October 12 to 13, making him the first Chinese president to visit the South Asian country in 23 years.
During his trip, the two countries issued a joint statement and elevated their ties to Strategic Partnership of Cooperation Featuring Everlasting Friendship for Development and Prosperity, agreeing on more practical cooperation in the new phase of bilateral relations.