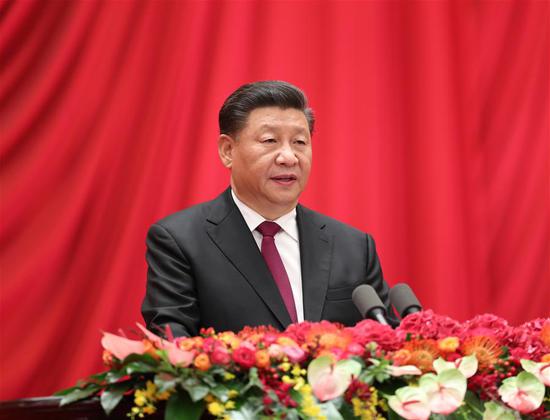 Chinese President Xi Jinping, also general secretary of the Communist Party of China (CPC) Central Committee and chairman of the Central Military Commission, delivers an important speech at a reception to celebrate the 70th anniversary of the founding of the People's Republic of China (PRC) at the Great Hall of the People in Beijing, capital of China, Sept. 30, 2019. (Xinhua/Huang Jingwen)
Special: 70th birthday of PRChina
Chinese President Xi Jinping delivered an important speech at a reception held Monday evening at the Great Hall of the People to celebrate the 70th anniversary of the founding of the People's Republic of China (PRC).
Xi, also general secretary of the Communist Party of China (CPC) Central Committee and chairman of the Central Military Commission, stressed holding high the banner of unity and striving for the realization of national rejuvenation.
Presided over by Li Keqiang, the reception was attended by Li Zhanshu, Wang Yang, Wang Huning, Zhao Leji, Han Zheng and Wang Qishan, along with around 4,000 Chinese and foreign guests.
Over the past 70 years, the Chinese people under the leadership of the CPC have successfully blazed a path of socialism with Chinese characteristics and advanced socialism with Chinese characteristics into a new era, Xi said.
Hailing remarkable achievements made by the Chinese people in the past 70 years, Xi said absolute poverty, a problem that has plagued the Chinese nation for thousands of years, is coming to an end.
Over the past 70 years, the Chinese people have been firm in pursuing an independent foreign policy of peace and stayed on the path of peaceful development, making important contribution to the building of a community with a shared future for humanity and to the peace and development of mankind, Xi noted.
The Chinese nation has achieved a tremendous transformation: It has stood up, grown rich and is becoming strong. It is embracing the brilliant prospects of rejuvenation, he said.