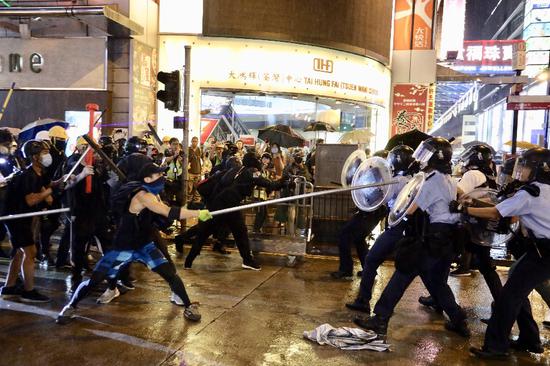 Radical protesters attack police officers in Tsuen Wan, in the western New Territories of South China's Hong Kong, Aug 25, 2019. (Photo/Xinhua)
The wife of a Hong Kong police officer appealed to a radical protester who shared his doubts about the violent protests online that it is never too late to end violence and choose the right path.
She also said when the radical protesters are willing to forsake violence, the scars they caused to the society could be healed and mutual trust could be rebuilt.
The appeal was written in an open letter posted on tweeter account @JakesKristal. The writer only identified herself as the wife of a Hong Kong police officer. She said the letter was a reply to remarks posted by a radical protester on Twitter saying he felt confused and even lost when he saw all the damages done to the city, the violent clashes with the police and the harassment of their families in the anti-government protests in the past three months.
"When I saw the fire and the broken glass, I was confused and wondered whether that was what I wanted?" the protester wrote.
What struck him even more was the realization that the policemen standing opposite him were also men of flesh and blood.
"Am I really going to attack someone just because his political stance was against mine?" the protester asked rhetorically.
The protester revealed that he was having a strained relationship with his family, who strongly objected to his participation in anti-government demonstrations. He had to go home after midnight every day to avoid his parents.
In the open letter responding to the protester's self confession, the wife of a police officer said she was glad that the protester has the courage to reflect on his own anti-social and violent behaviors.
"I believe it is not too late for you to think things through because there is still hope of rebuilding and restoring order in Hong Kong," she wrote.
She called the radicals' rampaging "inappropriate behavior by a group of lost children in pursuit of their own ideal."
She encouraged protesters to think more sensibly about their demands and whether these could be achieved through violence.
More than 1,600 police officers and their family members have their personal data leaked online since early June, including information about some 70 children, according to the police. Some officers' families received death threats.
Groups of radicals have repeatedly gathered at the disciplined services living quarters where some policd officers and their families live. They threw debris at the buildings and broke some windows on the lower floors.
Several police officers' wedding parties were disrupted by protesters in the past few months. The radicals chanted offensive slogans at the wedding parties and threw joss paper, burnt offerings for the deceased, as a curse outside the hotels where the weddings were held.