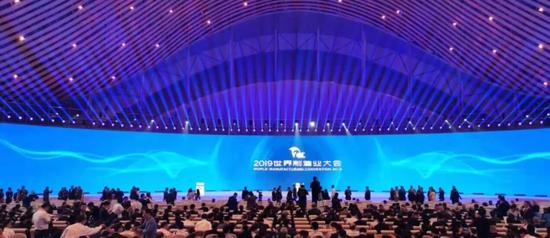 The 2019 World Manufacturing Convention opens in the city of Hefei, capital of East China's Anhui province, Sept 20, 2019. [Photo/Weibo]
Chinese President Xi Jinping sent a congratulatory letter to the 2019 World Manufacturing Convention that opened Friday in the city of Hefei, capital of east China's Anhui Province.
The global manufacturing industry is currently undergoing profound changes, requiring countries to step up cooperation and learn from one another, Xi said in the letter.
Xi called on countries to seize the opportunities presented by the new round of scientific and industrial revolution, enhance the technological innovation capacity of the manufacturing sector, and promote changes in terms of quality, efficiency and driving force.
China attaches great importance to the development of the manufacturing industry, adheres to the innovation-driven development strategy, and takes the promotion of high-quality manufacturing development as an important link in building a modernized economy, Xi stressed.
Xi said that China is ready to work with all sides to advance the vigorous development of new technologies in the manufacturing sector, and make positive contribution to the high-quality development and shared benefits of the global manufacturing industry.