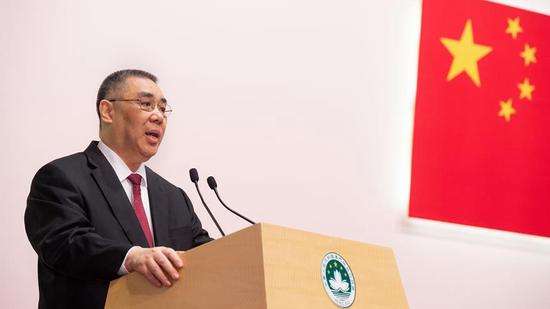 Chief Executive of the Macao Special Administrative Region (SAR) Chui Sai On addresses a reception to celebrate the 19th anniversary of Macao's return to the motherland in Macao, south China, Dec. 20, 2018. (Xinhua Photo)
The election for the fifth-term chief executive of China's Macao Special Administrative Region (SAR) will be held on August 25, according to an executive order published in the SAR official gazette on Monday.
The executive order was signed by Macao SAR Chief Executive Chui Sai On.
The official gazette also published another executive order which put ceilings on campaign expenditures at 6.44 million patacas (about 798,600 U.S. dollars) for each candidate.
According to the Basic Law of the Macao SAR, the chief executive, with a five-year tenure for each term, shall be elected by a broadly representative election committee in accordance with the law, and be appointed by the central government.