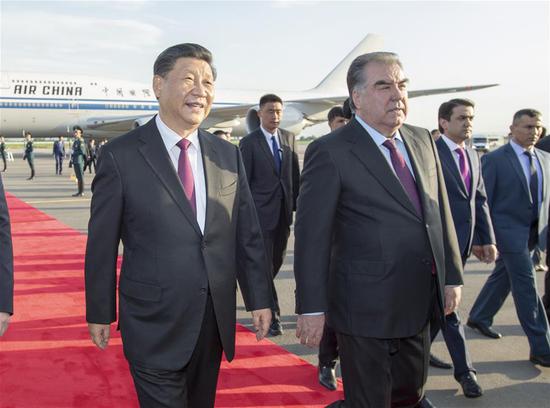 Chinese President Xi Jinping (L) is warmly received by Tajik President Emomali Rahmon upon his arrival at the airport in Dushanbe, Tajikistan, June 14, 2019. Xi arrived here Friday for the fifth summit of the Conference on Interaction and Confidence Building Measures in Asia (CICA) and a state visit to Tajikistan. (Xinhua/Xie Huanchi)
Special: Xi Visits Kyrgyzstan, Tajikistan, Attends SCO, CICA Summits
Chinese President Xi Jinping arrived here Friday for the fifth summit of the Conference on Interaction and Confidence Building Measures in Asia (CICA) and a state visit to Tajikistan.
Xi was warmly received by Tajik President Emomali Rahmon at the airport.
The two heads of state had a cordial talk. Xi thanked Rahmon for meeting him in person at the airport and conveyed to the Tajik government and people sincere greetings on behalf of the Chinese government and people.
As good neighbours, friends and brothers, China and Tajikistan have maintained sound and steady development in relations ever since they forged diplomatic ties 27 years ago, he said.
Xi said he and Rahmon decided to establish the China-Tajikistan comprehensive strategic partnership in 2017, which has ushered bilateral relations into a new phase of rapid development.
"My visit this time aims to push bilateral ties to an even higher level," he said. "I look forward to having in-depth communication with my old friend President Rahmon, and jointly outlining the beautiful blueprint of China-Tajikistan relations."
He pledged China's willingness to work with Tajikistan to further promote bilateral ties and cooperation in various fields to bring more benefits to both peoples.
The Dushanbe summit bears great significance to the development of the CICA, where all sides will discuss the mechanism's future development and decide on priorities for cooperation, Xi said, praising Tajikistan's efforts in preparing for the event and expressing belief in its success.
Recalling Xi's visit to Tajikistan five years ago, Rahmon extended a warm welcome to the Chinese leader for the state visit and his participation in the CICA summit.
Rahmon wished the visit a complete success and better and faster development of bilateral ties.
Tajikistan is the second leg of Xi's two-country Central Asia trip, which also took him to Kyrgyzstan for a state visit and the 19th Shanghai Cooperation Organization summit.