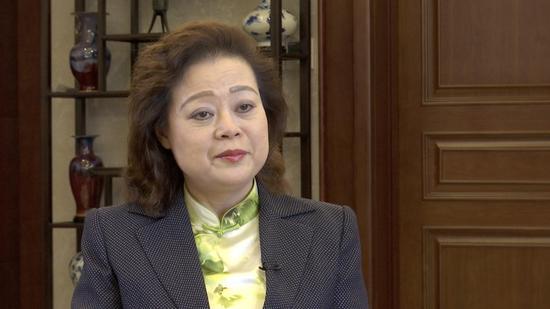 Chinese Ambassador to Kyrgyzstan Du Dewen speaks to CGTN in an interview in Bishkek, ahead of SCO summit, June 9, 2019. /CGTN Photo
Chinese President Xi Jinping will pay a state visit to Kyrgyzstan from June 12 to 14, and attend the 19th meeting of the Council of Heads of State of the Shanghai Cooperation Organization (SCO) in the capital city of Bishkek.
Chinese Ambassador to Kyrgyzstan Du Dewen told CGTN that the two presidents will sign agreements on boosting bilateral relations, stressing that the two countries have seen significant achievements under the framework of the Belt and Road Initiative (BRI).
Du told CGTN that the China-Kyrgyzstan relations are developing well and that both sides want to further improve ties to deepen political mutual trust and tap into potential partnerships.
"The two presidents will sign a joint statement on further deepening the comprehensive strategic partnership, which will lead to a new plan for future relations between the two countries. Now we are also talking about building a shared future between China and Kyrgyzstan. I think this visit will point out the road ahead for that," the Chinese diplomat said.
Local people say Kyrgyzstan has better roads now and more people are learning Chinese or working in Chinese companies.
The ambassador said the BRI has contributed hugely to trade connectivity.
"People in Kyrgyzstan are very familiar with online shopping through China's Taobao," she said.
The BRI has also hugely improved the infrastructure connectivity, Du noted.
"The China-Kyrgyzstan-Uzbekistan road has been put into use, it's a standard modern highway. Kyrgyzstan has long been troubled by Tianshan mountains blocking its north and south. The old road can't be used in all seasons, we're helping them to build the north-south road. We're also helping repair the capital's streets. They don't have good overpasses now, we'll build two for them in the third stage of the project," Du said.
The ambassador said Kyrgyzstan has laid the foundations for the upcoming summit in Bishkek by holding many related events over the past year.
"Since taking over the [SCO] presidency last June, they've held many events, we're very busy with that this year. They held the defense ministers meeting, meeting of Security Council Secretaries, foreign ministers meeting, and different events like a media forum and a women's forum. These all laid a good basis for the summit," she said.
She added that China has been actively supporting Kyrgyzstan during its SCO presidency.
The SCO was born 18 years ago. Du said some might have questioned its raison d'être, but "they were wrong."