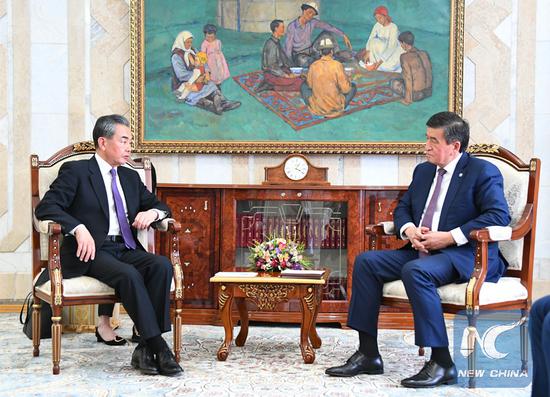 Kyrgyz President Sooronbay Jeenbekov (R) meets with Chinese State Councilor and Foreign Minister Wang Yi in Bishkek, Kyrgyzstan, May 21, 2019.
Kyrgyz President Sooronbay Jeenbekov said Tuesday that his country is ready to align its development strategies with the Belt and Road Initiative (BRI) and strengthen practical cooperation with China in various sectors.
During a meeting with Chinese State Councilor and Foreign Minister Wang Yi, Jeenbekov said China has been providing Kyrgyzstan with a large amount of selfless and sincere assistance for a long time without imposing its will on others, adding that China is indeed Kyrgyzstan's good neighbor, good friend and good partner.
Kyrgyzstan firmly adheres to the one-China policy, supports China's anti-terrorism measures in its Xinjiang Uygur Autonomous Region, and will combat jointly with China the "three forces" of terrorism, separatism and extremism, he said.
Jeenbekov said his country looks forward to the upcoming state visit of Chinese President Xi Jinping and his attendance at the summit of the Shanghai Cooperation Organization (SCO) in Bishkek.
Kyrgyzstan is ready to work with China to make Xi's visit a historic one which will push the comprehensive strategic partnership between the two countries to a higher level, he added.
For his part, Wang said China never interferes in Kyrgyzstan's internal affairs, always respects Kyrgyz people's choice, and intends to achieve common prosperity together with Kyrgyzstan.
Beijing appreciates Bishkek's support on the issues concerning China's core interests, including Taiwan and Xinjiang, Wang said, adding that China is willing to further cement political mutual trust with Kyrgyzstan, strengthen security cooperation, and jointly fight the "three forces."
China is ready to cooperate within the framework of the BRI with Kyrgyzstan in economy and trade, agriculture and inter-connectivity, he said.
Wang proposed more high-level interactions, closer coordination, and joint efforts for the success of the SCO Bishkek summit.