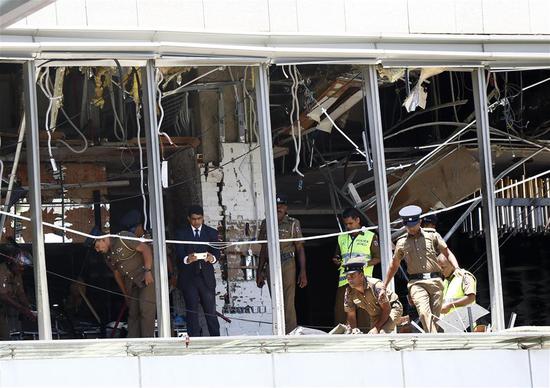 Police and investigators work at a blast scene at Shangri-La hotel in Colombo, Sri Lanka, April 21, 2019. (Xinhua)
Government and state leaders across the world condemned the multiple explosions targeting churches and hotels in Sri Lanka on Sunday, calling the attacks terrorism and sending condolences to Sri Lankan people and government.
The attacks took place at three Sri Lankan churches, three luxury hotels and other locations in the morning and in the afternoon, killing over 200 people and leaving more than 450 others wounded. The victims include tourists from various countries.
In his early morning tweet on Sunday, U.S. President Donald Trump called the incidents "a terrorist attack." He said that "the United States offers heartfelt condolences to the great people of Sri Lanka.
Russian President Vladimir Putin on Sunday extended his condolences to Sri Lanka.
"Our country shares the grief of the victim's families and friends and hopes for a prompt recovery of those injured," Putin said in a message, which was published on the Kremlin's website, to Sri Lanka's President Maithripala Sirisena.
Indian Prime Minister Narendra Modi tweeted that "Strongly condemn the horrific blasts in Sri Lanka. There is no place for such barbarism in our region. India stands in solidarity with the people of Sri Lanka. My thoughts are with the bereaved families and prayers with the injured."
European leaders condemned the deadly bombing attacks in Sri Lanka too.
Jean-Claude Juncker, president of the European Commission, tweeted: "It was with horror and sadness that I heard of the bombings in #SriLanka costing the lives of so many people. I offer my heartfelt condolences to the families of the victims who had gathered to worship peacefully or come to visit this beautiful country. We stand ready to support."
Donald Tusk, president of the European Council, wrote on his Twitter account: "A tragic Easter in Sri Lanka. My thoughts are with the families of those killed in the attacks on churches and hotels; and those still fighting for their lives."
British Prime Minister Theresa May said in a statement that "the acts of violence against churches and hotels in Sri Lanka are truly appalling, and my deepest sympathies go out to all of those affected at this tragic time."
French President Emmanuel Macron expressed on Sunday his "deep sadness" after the terrorist attacks in Sri Lanka and condemned the "heinous acts" on his Twitter account.
German Chancellor Angela Merkel condemned the series of bombings, saying the "religious hate and intolerance that have showed themselves in such a terrible way today must not win."
Turkish President Recep Tayyip Erdogan on Sunday said in his Twitter that "I condemn in the strongest terms possible the Easter terror attacks in Sri Lanka. This is an assault on all of humanity."
Israeli Prime Minister Benjamin Netanyahu said "On behalf of the citizens of Israel... (I) express deep shock at the murderous attacks against innocent civilians in Sri Lanka."
Afghanistan, Bangladesh, Egypt, Ireland, Malaysia, New Zealand, Pakistan, Saudi Arabia, among other countries also joined the international community in condemning the multiple blasts.