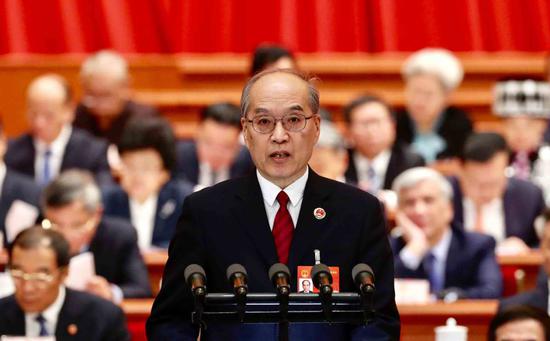 Zhang Jun, procurator-general of the Supreme People's Procuratorate, delivers a work report of the Supreme People's Procuratorate at a plenary meeting of the NPC in Beijing on March 12, 2019.(Photo by Feng Yongbin/chinadaily.com.cn)
Special: NPC, CPPCC Sessions 2019
China's procurator-general has called for procuratorates nationwide to further improve their capabilities in law enforcement to meet higher public expectations.
In the past year, amid people's rising demands for democracy, rule of law, justice, security and a better environment, prosecuting authorities have made consistent efforts to adopt a people-oriented approach in their work, as instructed by President Xi Jinping, according to Zhang Jun, procurator-general of the Supreme People's Procuratorate.
The top procuratorate has restructured its internal systems and formed 10 departments to handle criminal, civil, administrative and public interest cases, he said in an interview.
"Justice and fairness should not only be achieved, but also be felt and seen by the public in a more sensible way," Zhang said.
To achieve that goal, prosecutors have been closely watching crimes that most affect people's daily lives. For example, 43,929 people were charged in 2018 with telecom fraud — a crime to which everyone is vulnerable — up by 29.3 percent year-on-year.
Another 42,195 people were prosecuted for damaging the environment and resources, an increase of 21 percent annually, and 12,360 people were charged with producing or selling fake or substandard drugs or toxic food products, an increase of 5.5 percent, according to the SPP.
Zhang said prosecuting authorities also actively participated in a joint crackdown against organized crime and local mafia groups to bring the people a greater sense of security.
More than 61,000 people were indicted in connection with related crimes last year, and a group of mafia-like gangs that had been bullying people were punished.
Faced with an increase in crimes that harm minors in recent years, the top procuratorate and all provincial-level procuratorates have established special prosecutorial departments to handle cases involving minors — the first such practice among all judicial agencies in the country, Zhang said.
A total of 1,761 chief procurators across the country have held concurrent posts as vice-principals of primary or middle schools in charge of education about the law and to ensure a safe campus, he said.
To better handle petitions from the public, the top procuratorate has instructed prosecuting authorities to put themselves in the place of the petitioners and provide feedback on each petition within seven days.
An additional report should be produced within three months on how the petition has been processed, according to the SPP.
Prosecuting authorities have been treating the protection of human rights as being as important as fighting crime, Zhang said.
"Our work is based on facts and laws as well as the principle of 'no one is let off, no one is wronged'," he said.
Last year, prosecutors turned down police requests to formally arrest 168,458 people and dropped charges against 34,398 others — up by 15.9 percent and 14.1 percent year-on-year — because of insufficient evidence or because their actions did not constitute a crime.
"Even one wrongful case is too much," Zhang said, adding that prosecutors will make consistent efforts to prevent wrongful cases and make timely rectification once such a case is detected.
"We should be responsible to the law, history and the people," he said.