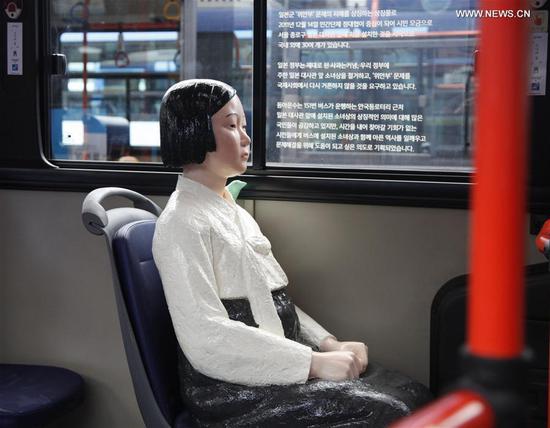 A "comfort women" statue is seen on a bus in Seoul, South Korea, Aug. 13, 2017. Five buses installed with "comfort women" statues will be put into operation from Aug.14 to Sept. 30 to commemorate the ladies who were used as sexual slaves during the Second World War and remind people of that very history. (Xinhua/Yao Qilin)
The South Korean parliamentary speaker refused to apologize for his comment on Japan's emperor after he called on Emperor Akihito to apologize for Japan's sex slavery of Korean women before and during World War II, South Korea's Yonhap news agency reported Wednesday.
National Assembly Speaker Moon Hee-sang was quoted as saying the most fundamental in the "comfort women" issue is only one that is a heartfelt apology from Japan and that what he emphasized was the reason why Japan was dragging it out for so long.
The speaker said in an interview with Bloomberg news service last week that a word of heartfelt apology from the prime minister representing Japan or Japan's emperor can resolve the "comfort women" issue.
During the interview, Moon called the Japanese emperor as "the son of the main culprit of war crimes," which was likely attributable to the fact that Akihito's father, Emperor Hirohito, was in power before and during World War II.
"Comfort women" refer to girls and women kidnapped or forced into sex enslavement for the Imperial Japan's military brothels before and during World War II.
Historians say as many as 400,000 women in Asia were coerced into serving as sex slaves for Japanese soldiers during World War II.