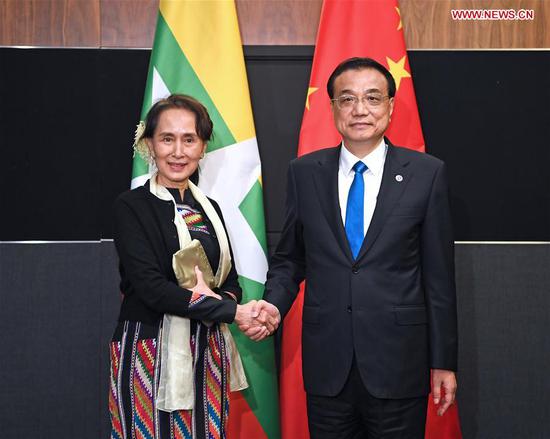 Chinese Premier Li Keqiang meets with Myanmar's State Counselor Aung San Suu Kyi in Singapore, on Nov. 15, 2018. (Xinhua/Zhang Ling)
Chinese Premier Li Keqiang and Myanmar's State Counselor Aung San Suu Kyi discussed bilateral ties on Thursday and vowed to boost the cooperation between the two countries.
In the meeting on the sidelines of a series of leaders' meetings on East Asian cooperation in Singapore, Li said that China and Myanmar are friendly neighbors and that the solid "paukphaw" ("fraternal" in the Myanmar language) friendship has stayed strong since the two countries established diplomatic relations 68 years ago.
The premier said China attaches great importance to its ties with Myanmar and stands ready to build on the tradition of friendship, enhance political mutual trust and increase the practical cooperation, thereby facilitating the continued steady progress in the comprehensive strategic cooperative partnership between the two sides.
China and Myanmar, both developing nations, face the same task of boosting economic development and improving people's livelihood, said the Chinese premier.
China is willing to work together with Myanmar in pursuit of further synergy between their development plans and carry out cooperation in human resources and education, Li said.
Such efforts will help Myanmar develop its economy and society and benefit both peoples, he added.
China supports Myanmar's efforts in maintaining its domestic stability and the approach of trying to resolve the Rakhine issue through dialogues and consultation between Myanmar and Bangladesh, and is willing to provide the relevant parties with necessary support in this regard, Li said.
Suu Kyi said Myanmar and China, both developing nations, have had a solid tradition of friendship. She said Myanmar would like to work with China to boost understanding and support, build on the friendly cooperation and promote joint development.
Myanmar is willing to strengthen the cooperation with China in economy and trade, human resources and education, she said.
Suu Kyi thanked China for the many times it has extended help to Myanmar, especially the constant understanding and support in regard to the Myanmar peace process and the Rakhine issue.
Myanmar is willing to work together with the parties concerned to create a favorable environment for peace and development in the country, she said.