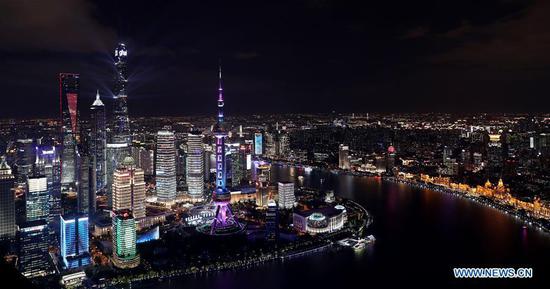 Photo taken on Nov. 1, 2018 shows the night view of Shanghai, east China. (Xinhua/Fang Zhe)
Special: 40YearsOfReform
Chinese President Xi Jinping stressed that the country should review the glorious course and valuable experience of reform and opening-up in the past 40 years when presiding over the fifth meeting of the Central Committee for Deepening Overall Reform on Wednesday.
China should hold high the great banner of reform and opening-up, develop the system of socialism with Chinese characteristics, modernize the country's system and capacity for governance, and further push forward reform and opening-up in the new era, he stressed.
Xi, also general secretary of the Communist Party of China (CPC) Central Committee and chairman of the Central Military Commission, said the country's southern island province of Hainan has a new mission of comprehensively deepening reform and opening-up and that the CPC Central Committee supports a plan for building it into a pilot free trade zone.
He added the province should gradually explore and steadily advance the construction of a free trade port with Chinese characteristics.
The other policies discussed in the meeting include improving the market exit mechanism which is of great significance to advance supply-side structural reform, stimulate the competitive vitality of market players and promote high-quality economic development.
According to a statement released after the meeting, China has launched centralized procurement of medicine pilot projects, and the purpose is to improve the mechanism of the centralized procurement of medicine and the mechanism of market-oriented pricing of medicine, so as to reduce people's burden of drug purchase, standardize the order of drug circulation, and improve the safety of drug use.
It was stressed at the meeting that efforts should be made to promote transparent, standardized, legal and fair administrative law enforcement, constantly improve the law enforcement system, standardize law enforcement procedures, strengthen law enforcement supervision, and comprehensively improve law enforcement efficiency.
Leaders at the meeting also urged authorities in all regions to do a solid job in celebrating the 40th anniversary of reform and opening up and pushing forward reform and opening up with greater determination, courage and strength.
The leaders called for concrete actions in implementing reform and said the keys are to find the problems and solve them.
They agreed at the meeting that the 40-year experience proves that no matter how complex the environment is, the nation should make a correct judgment of the overall situation, stand firm and dare to take risks.
Wang Huning and Han Zheng, both members of the Standing Committee of the Political Bureau of the CPC Central Committee and deputy heads of the central committee for deepening overall reform, also attended the meeting.