In the wake of the MeToo movement, Brett Kavanaugh's Supreme Court confirmation and a raft of sexual abuse scandals, a lot of attention in this midterm election has been paid to women: the voters, the candidates, the issues.
Could they help flip the Senate? Would the recent outrage translate into political action? Or is the talk of a "pink wave" in this election overblown?
With one day to go before the vote, here's a look at what these midterms mean for 51 percent of the U.S. population.
Why are women expected to turn up?
The MeToo movement and a seemingly never-ending series of sexual assault and harassment allegations last year against high-profile men - from Harvey Weinstein to Kevin Spacey - brought women out into the streets.
Before that, President Donald Trump had repeatedly shocked voters with misogynistic and demeaning comments about women, even on the campaign trail.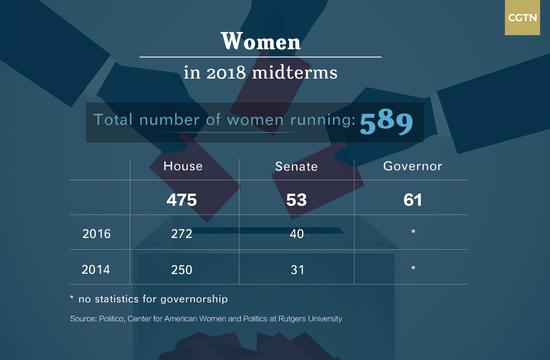 (CGTN Graphic)
Then last month, Brett Kavanaugh was sworn in as Supreme Court Justice after a contentious confirmation process marred by allegations of sexual assault, tipping the court to the right and prompting fears that key rulings, including on abortion rights, might soon be overturned.
All that combined has created widespread expectations that women will turn out en masse on November 6 - and most likely vote Democrat - in an election tipped as a referendum on the president.
Another 'Year of the Woman'?
Already, early voting figures have shown more women casting their ballot than men, according to CNN.
A record number of women are also running for office. Together, the races for House, Senate and Governor have seen a whopping 589 female candidates. In the last such election in 2016, there were just over 300.
Commentators have drawn parallels with the 1992 midterms, which came shortly after Supreme Court nominee Clarence Thomas was accused of sexual misconduct. Thomas, like Kavanaugh, was eventually confirmed but the backlash saw a wave of women sweep into office, and 1992 became known as the "Year of the Woman."
Not a unified bloc
But while numbers might be up, women are not a unified bloc.
A protester holds up a sign during the Women's March in Los Angeles, USA, January 20, 2018. /VCG Photo 
In the 2016 presidential election, 41 percent of women voted for Trump, despite allegations of sexual misconduct against him and the fact that his opponent was a woman.  
During Kavanaugh's hearings - which prompted a wave of female outrage over the treatment of sexual assault victims - polls showed a large number of women still backing his confirmation.
Age, race and ethnicity help to determine how women vote, just as much as gender, experts note.
According to CIVIQS polling data, 38 percent of women currently approve of Trump's job performance. Among women aged 18-34, this drops to 27 percent and among African-American women it is a measly five percent. Among white female voters aged 50 and above, however, it is over 50 percent.
What are the issues?
On issues as well, female voters remain divided. Sexual abuse and abortion have galvanized many, but they are not the only priorities. Healthcare, education, jobs and the economy are often put forward as key concerns, not just for them but for their families.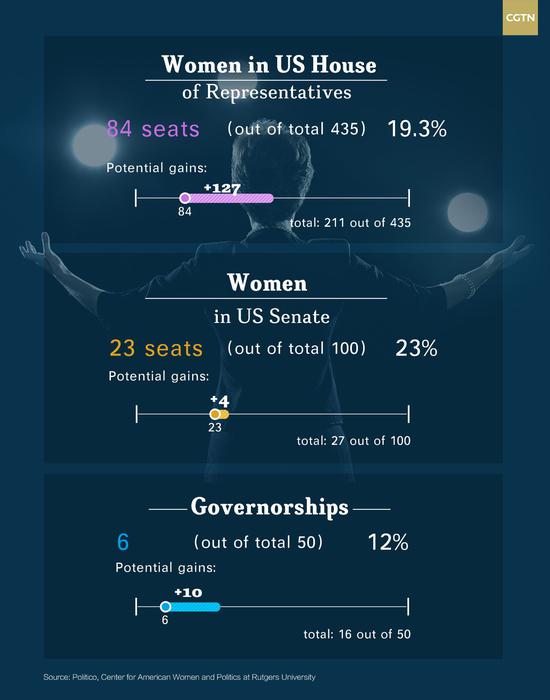 (CGTN Graphic)
"Many of us voted for President Donald Trump because at least he talked about taxes and regulations and eliminating government agencies - things we knew would affect the American economy, not just our own jobs but those of our husbands, sons and brothers," writer Stephanie Gutmann argued in a USA Today commentary back in October.
Can we expect a 'Pink Wave'?
So the female vote will likely remain split. But the number of women elected to office looks set to break records.
In the best case scenario, women could take as many as 211 seats in the House - almost half of the total. Currently, they hold just 84 out of 435 seats, or 19 percent.
Many of the candidates have also made headlines for their youth and diverse ethnic background - a contrast to the predominant image of Congress as a group of older white men.
A larger female presence in Congress and the governor's mansions would help change the debate and how politics are done, experts say. According to Michele Swers, a political scientist at Georgetown University, women pass more legislation than their male counterparts and tend to focus on policies that affect other women.
Whether voters can help "flip" the Republican-held Senate and get more women and Democrats in the chamber, which confirms Supreme Court justices, will be more difficult.
Nevertheless, Time magazine has already predicted that the current "pink wave" could "rival or even outperform the so-called 'Year of the Woman' in the 1992 elections."