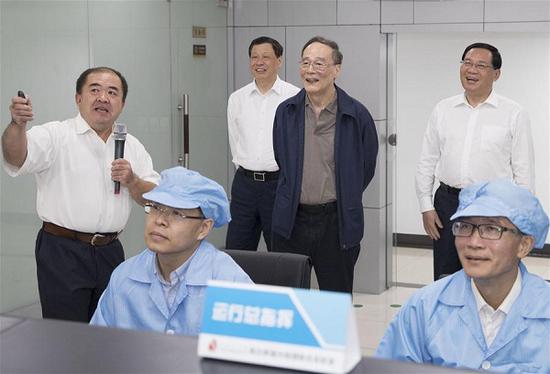 Chinese Vice President Wang Qishan (C, rear) visits the Shanghai Institute of Optics and Fine Mechanics of Chinese Academy of Sciences in east China's Shanghai, Sept. 20, 2018. Wang made an inspection tour to Shanghai and Jiangsu Province from Tuesday to Friday. (Xinhua/Wang Ye)
Vice President Wang Qishan has called for implementing the new development philosophy and lifting the level of scientific and technological innovation.
Wang made the remarks during a visit to Shanghai and Jiangsu Province from Tuesday to Friday.
To promote high-quality development, the key lies in balancing the relationship among speed, structure, quality and efficiency by means of technological innovation and organizational and institutional innovation, Wang said.
He called for more effort to establish and improve the institutional environment, strengthening intellectual property rights protection, and setting up effective mechanisms of incentives and constraints.
Highlighting the importance of a global vision in planning and promoting innovation, he called for integrating into the global scientific and technological innovation system and increasing exchanges with other countries.