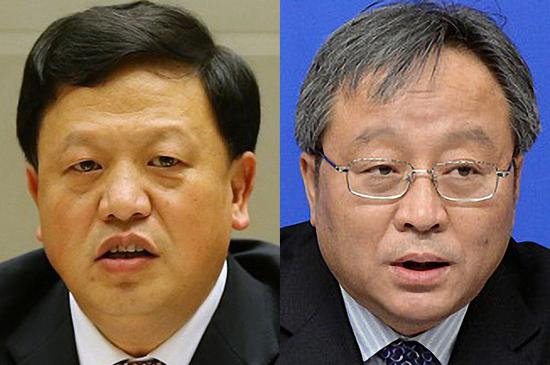 Wang Xiaoguang (left) and Zhang Shaochun. (Photo/China Daily)
Golf, banquets, bribes, reading improper books among misdeeds
Two senior officials have been expelled from the Communist Party of China and removed from public office over serious alleged lawbreaking, as well as violations of Party discipline, China's top anti-graft bodies said on Thursday.
Wang Xiaoguang, former vice-governor of Guizhou province and a long-serving member of the Standing Committee of the Guizhou CPC committee, and Zhang Shaochun, former vice-minister of the Ministry of Finance, were removed, the Central Commission for Discipline Inspection and the National Supervisory Commission said in a statement.
Wang was dismissed from his position on April 1 and placed under investigation by the two watchdogs.
Wang, who was born in 1961 in Juye, Shandong province, had spent the 34 years of his political career in Guizhou province. He had held top positions in Guiyang and Zunyi, two of the province's largest cities, before rising to vice-governor in 2017.
Wang violated Party rules and is suspected of violating numerous laws. In addition, he had lost his political faith, the CCDI said in an online statement on Thursday.
Wang was keen on reading foreign books that were politically improper. He had also canvassed for votes, handed out official titles in return for favors, violated work discipline in foreign affairs and refused to cooperate during investigations.
He had also abused his power, lavishly furnishing his home using public money and hosting costly banquets that could undermine the normal and impartial functioning of his post, the CCDI said.
Wang failed to honestly report his personal information in accordance with rules and regulations. He also embezzled public money, engaged in sexual misconduct and abused his position by siphoning money from companies and building projects.
Wang indulged himself in a life of pleasure and luxury, characterized by his obsession with orchids, golf and other activities that interfered with his job, the CCDI said.
He is now suspected of bribery, corruption and illegal possession of public funds and property. His actions severely undermined the political and socioeconomic order in Guizhou, the CCDI said.
As a result, the CCDI expelled Wang from the Party, and the National Supervisory Commission fired him from his post. Wang's illicit gains have been confiscated, and information and evidence regarding his crimes have been sent to other agencies for further investigation and prosecution, the CCDI said.
Zhang was involved in several corrupt behaviors, including accepting bribes, illegally entering private clubs, taking advantage of his position to meddle in other people's jobs and prying into other cases in violation of political discipline.
Zhang will be prosecuted and all his illegal gains will be confiscated, it said.
As a senior official of the Party, Zhang lost his aspirations, went against Party principles and wielded his power and influence as tools for personal gain. He seriously violated Party discipline and is suspected of crimes, it said.
Most of his violations took place after the 18th National Congress. He had no bottom line and did not know when to stop, the CCDI said, adding that the case should be dealt with seriously.
Zhang, 60, from Liaoning province, was a graduate of Dongbei University of Finance and Economics. He joined the Party in 1978 and worked as a secretary in the General Office of the Ministry of Finance in 1988.
In 1989, he was appointed deputy director of the ministry's research department and director of the publicity department before working as vice-director of the General Office in 1994.
He served as director of the law division, as well as the education, science and culture division of the ministry from 1998 to 2003, before being appointed as the minister's assistant in 2003.
He was appointed vice-minister of finance in 2006 until he was dismissed in May this year because of the disciplinary probe.