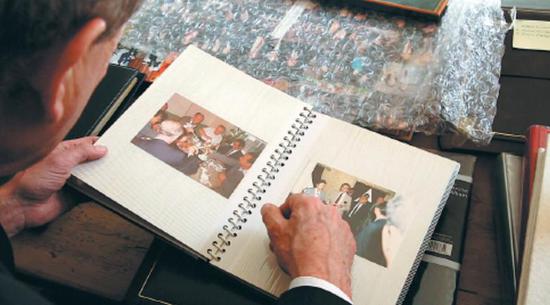 Stephen Perry, chairman of the 48 Group Club, leafs through a photo album showing some of the activities he has taken part in when in China. (Photo by Kevin Wang/China Daily)
Special: 40YearsOfReform
In 1954, during the Cold War, a group of 48 British businessmen took seven days to travel to Hong Kong amid efforts by the United States to stop people from visiting China. The team then took another four days to get to Beijing, with the help of an emissary of premier Zhou Enlai.
Their historic trade mission, which helped deliver items ranging from grain and copper to machinery and medicines, established one of the first modern-day trade links with the outside world after the founding of the People's Republic of China in 1949.
The 48 men were the precursor of a business association, the 48 Group Club, led by Jack Perry, the late founder of the pioneering London Export Corp. The trip became known as the "Icebreaking Mission", and the club members called themselves "icebreakers".
Perry's son, Stephen, has since taken over the reins as chairman of the company and the club. With today's booming Sino-British business landscape, the club plays a central role in bridging relations between China and the United Kingdom.