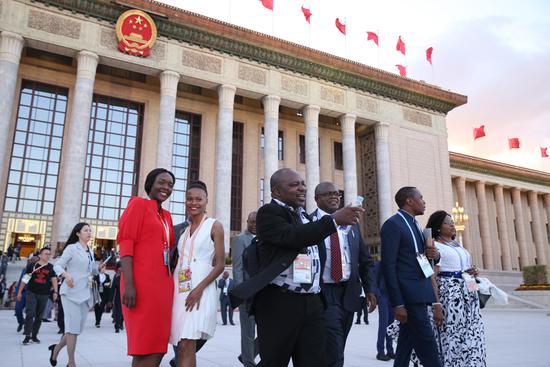 Country representatives (center and right) take in Tian'anmen Square with two journalists (left) in front of the Great Hall of the People in Beijing on Monday after the opening ceremony of the Beijing Summit of the Forum on China-Africa Cooperation. (ZOU HONG/CHINA DAILY)
Special: Forum on China Africa Cooperation 2018
Beijing lauded for being a steady partner helping to foster growth
African leaders attending the ongoing Beijing Summit of the Forum on China-Africa Cooperation hailed the prospects of Sino-African ties, saying the Belt and Road Initiative helps boost partnerships.
China-Africa cooperation is "strongly based on sincere friendship" and "mutual respect", said Denis Sassou Nguesso, president of the Republic of the Congo. "We think we are on the right path, not only Congo but all Africa."
"The Chinese and African peoples throughout history have experienced almost similar situations ... and today they have chosen to journey together for development and economic and social well-being," he said.
Sassou Nguesso said the BRI meshes well with the United Nations 2030 Agenda for Sustainable Development and the African Union's Agenda 2063.
"We believe that this initiative will integrate Africa. All this is in the direction we have chosen to walk together."
Paul Kagame, president of Rwanda, said the FOCAC Summit comes at the right time, as globalization faces headwinds.
The forum emphasizes cooperation and carries a positive message for the whole world, Kagame said.
Gabon thinks highly of China for its efforts to strengthen cooperation with Africa and wants to accelerate and strengthen its own relationship with the country, said Ali Bongo Ondimba, president of Gabon.
"China has never stopped supporting Gabon in its development, even during its most difficult times," he said, expressing gratitude to Chinese leaders and investors for their confidence in his country.
President Muhammadu Buhari of Nigeria said China has proved to be a willing ally in development efforts, describing cooperation between the two countries as growing "at a very satisfactory win-win level".
China has proved to have the financial and technical capacity and goodwill to help Nigeria achieve its infrastructural development goals, Buhari said.
Emmerson Mnangagwa, president of Zimbabwe, said: "We in Zimbabwe are committed to the BRI and we do not want Zimbabwe to be left behind because we want to get linked to global markets and the global economy."
Zimbabwe hopes to accelerate infrastructure construction and modernization on the basis of mutual benefit and win-win cooperation, Mnangagwa said.
"We have several projects we have put forward, and this time around we hope we will be able to create bankable projects that meet the criteria for assessment by China," he added.
Central African Republic President Faustin-Archange Touadera said his country stands ready to join the BRI and sees its central location in Africa as an advantage.
The Central African Republic is "a continental country that does not have an outlet to the sea, and this hampers its development", Touadera said.
However, with the BRI, his country is now able to "turn this handicap into an advantage, because the country is in the heart of Africa", he said.