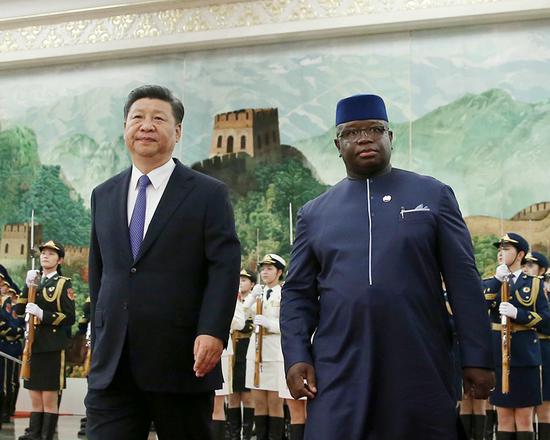 President Xi Jinping walks with Sierra Leonean President Julius Maada Bio in the Great Hall of the People in Beijing on Thursday. (Photo by Wang Zhuangfei/China Daily)
Special: Forum on China Africa Cooperation 2018
Joint efforts with Sierra Leone to fight Ebola praised by world
China's principle of developing friendship with Africa will be unchanged despite the country's development and the rise of its international status, President Xi Jinping said on Thursday.
Xi made the remark while meeting with Julius Maada Bio, president of Sierra Leone, in the Great Hall of the People in Beijing.
The two leaders witnessed the signing of documents by China and Sierra Leone covering such areas as economic and technological cooperation and jointly building the Belt and Road.
China has always deemed its cooperation with African countries an important basis for its diplomatic policies, and such principles will not be changed, Xi said.
Since the establishment of diplomatic relations 47 years ago, China and Sierra Leone have always been good friends, Xi said.
The joint efforts made by the people of China and Sierra Leone to fight Ebola have drawn compliments from the international community, Xi said.
China respects independent choices made by the Sierra Leonean people, Xi said, adding that China would like to boost high-level exchanges with the African country and enhance cooperation in such areas as infrastructure, agriculture, fisheries, health and education.
Xi spoke highly of the efforts made by the Sierra Leonean president to develop bilateral relations and promote cooperation.
China cherishes the traditional friendship with Sierra Leone and would like to make joint efforts with the country to strengthen mutual trust, expand cooperation in all are-as and promote the comprehensive strategic partnership to benefit the people of both countries, Xi said.
Saying that the friendship between the two countries has stood the test of time in the past 47 years, the Sierra Leonean president expressed gratitude to China "for the many times you stood by us in very difficult times".
"I want to commit or reaffirm my administration's commitment to you and to the people of China that we will stand together at all times," he said.
Sierra Leone would like to learn from China's experience of development, strengthen bilateral relations, participate in building the Belt and Road, and enhance cooperation in education, fisheries, health and infrastructure, he added.