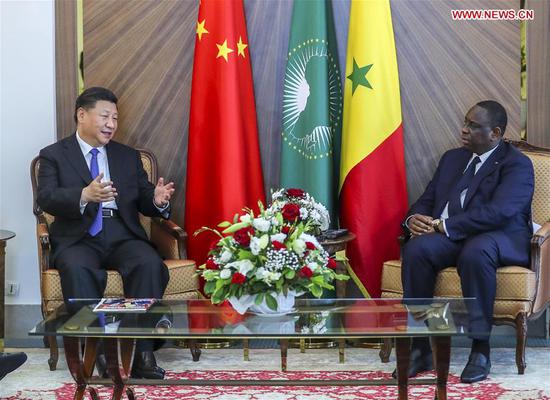 Chinese President Xi Jinping and Senegalese President Macky Sall hold talks in Dakar, Senegal, July 21, 2018. (Xinhua/Xie Huanchi)
Special: Xi Visits Five Arab and African Countries, Attends BRICS Summit
Different social circles in Senegal spoke highly of Chinese President Xi Jinping's state visit to the West African country as he wrapped up his trip on Sunday.
The Senegalese Press Agency quoted Senegalese President Macky Sall as saying that China is a reliable and important partner of Senegal.
China is a country of ancient civilization which has thousands of years of rich and colorful history and has become the second largest economy in the world whose development process has provided experience to other developing countries, the press agency said in an article.
It said Senegal feels honored and proud that President Xi chose Senegal as the first stop of his African tour this time, hoping that the two sides could further deepen cooperation in agriculture, energy, water conservancy, sanitation, sports and information technology in the future.
Senegal expects and welcomes Chinese companies to invest in Senegal, it added.
Senegal's former Prime Minister Aminata Toure said in an interview with the local media during Xi's visit that she expected the visit to boost economic cooperation and cultural exchange between the two countries under the premise of mutual benefit.
In addition, she said China's development has proved that developing countries have great potentials for development.
Senegal should learn from China's experience and models in human resources training, sci-tech innovation, social development policies, as well as measures to facilitate the development of small- and medium-sized enterprises, Toure said.
Kader Diop, an expert at the University of Dakar's journalism school, said Xi's visit has consolidated the friendly cooperation between Senegal and China.
China's aid to Africa has not been limited to one particular country, but eyes the overall development of Africa with the help of its friendly relations with African countries.
He said the Chinese aid of building sports and cultural infrastructure in Senegal, in particular, the Grand National Theater of Dakar and the Museum of Black Civilization, shows that the China-Africa cooperation is not profit-seeking.
Khady Fall, who works at a foreign trade company in Dakar, said she was glad that Senegal became the first West African nation to sign cooperation documents with China on the Belt and Road Initiative.
She believed that the China-proposed initiative would strongly promote Senegal's economic development.