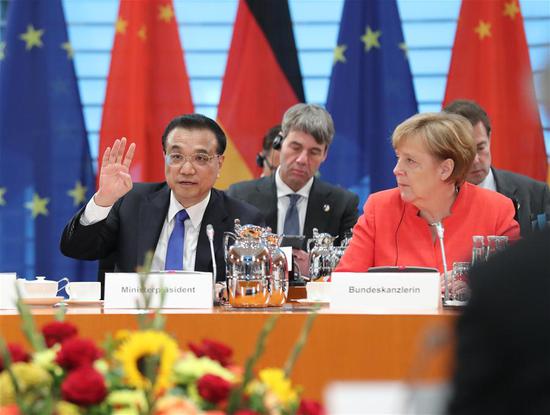 Chinese Premier Li Keqiang and German Chancellor Angela Merkel co-chair the fifth round of intergovernmental consultations in Berlin, Germany, July 9, 2018. (Xinhua/Liu Weibing)
China and Germany on Monday agreed to unequivocally oppose protectionism and safeguard free trade system based on multilateral rules to promote strong, sustainable and balanced global economic growth.
Chinese Premier Li Keqiang and German Chancellor Angela Merkel co-chaired the fifth round of intergovernmental consultations and made the announcement in Berlin.
Both sides agreed to deepen cooperation in finance and economy, make full use of high-level financial dialogue and other mechanisms, strengthen communication in macroeconomic policy and build financing platforms concerning bilateral and third-party markets.
Germany appreciates China's further measures to open its financial market, and China supports the construction of Frankfurt financial center and the offshore market of renminbi.
The two countries agreed to promote bilateral cooperation in economy, trade and investment, jointly safeguard free trade and an international market based on fair and recognized rules and relax market access.
China is willing to discuss with the German side to jointly explore the third-party market, and Germany is willing to give full play to its advantages to work with China in Industry 4.0.
The two governments agreed that they should build a cooperation platform for companies of both countries and create a more favorable business environment.
China invites Germany to attend the first China International Import Expo and welcomes Germany to expand its investment in China. Beijing also encourages German companies to invest and set up factories in China's central and western regions.
The two sides noted that they should go with the trend of the times, give full play to their industrial complementarities, and strengthen cooperation in emerging industries such as digitization, autonomous driving, artificial intelligence and new energy vehicle.
They agreed to enhance science and technology innovation and fully tap the potential of digitization development in agriculture.
Both sides agreed to step up the cooperation of research activities in fields such as environmental protection, energy saving, biodiversity conservation and tackling climate change.
The two countries also agreed to expand people-to-people exchanges and deal with the issues concerning the aging of population.