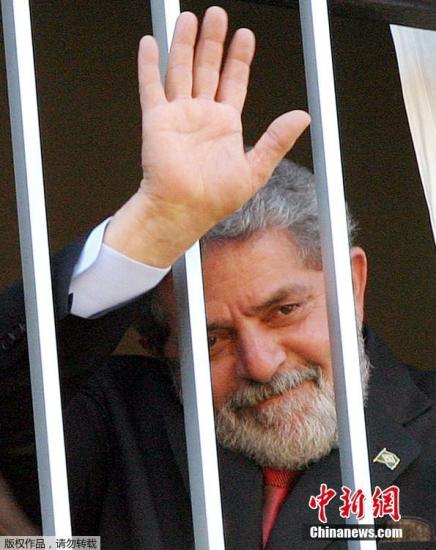 File photo of Brazil's ex-President Luiz Inacio Lula da Silva. (Photo/Agencies)
Brazil's judiciary issued contradictory orders Sunday over the controversial imprisonment of ex-President Luiz Inacio Lula da Silva, who was convicted of corruption and sent to jail in April.
Early in the day, federal court Judge Rogerio Favreto ruled in favor of an appeal and ordered Lula be released immediately. That decision was subsequently blocked by the other federal judge, Joao Pedro Gebran Neto, at Brazil's Federal Regional Court 4, to which Favreto also belongs.
Later, Carlos Thompson Flores, president of Brazil's Federal Regional Court 4, also overruled the decision issued by Favreto.
Thompson Flores' decision late Sunday capped a day of rising tensions as Lula supporters hit the streets of major cities following Favreto's decision only to be disappointed moments later.
Sergio Moro, the judge that last year convicted and sentenced Lula, questioned Favreto's competence as he dismissed the ruling, Brazilian news network Globo reported on its website.
"Judge Sergio Moro ... said the judge on duty did not have the authority to order Lula's release," the agency said.
Since April, Lula has been serving a 12-year-one-month sentence at a federal police holding facility in Curitiba, capital of Parana state, after being convicted of corruption.
In overruling the release order, Gebran Neto said "I determine that ... the federal police of Parana abstain from carrying out any action that changes the collegial decision" that led to Lula's conviction and sentence.
The pushback sparked another call from Favreto for Lula's release.
"I order the IMMEDIATE compliance with the judicial measure to free the defendant, under penalty of punishment for non-compliance with a judicial order," Favreto wrote.
The head of the Workers' Party (PT)'s legislative bloc in the Chamber of Deputies, Paulo Pimenta, accused Moro of "insurrection" for questioning Favreto's ruling.
Lula was convicted of taking bribes from Brazilian construction giant Odebrecht in the form of a luxury beachfront apartment, in return granting the company juicy public works contracts.
His supporters say the accusations were politically motivated to prevent Lula from running for a third term in the October presidential elections.
Gleisi Hoffmann, the PT's president, said: "This isn't going to end well. The judges have crossed the line. Lula is our presidential candidate and he will win the elections even in jail. I want to see what the supreme court does if it wants to annul the vote."
Outside the detention center in Curitiba, thousands gathered to chant pro-Lula slogans.
Meanwhile, Favreto said he received death threats from supporters of Brazil's leading right-wing candidate Jair Bolsonaro, who trails Lula in pre-election polls, despite the fact that Lula's chances of running appear dim.
The legal back and forth led the president of the Federal Supreme Court, Carmen Lucia Antunes, to defend the judicial system, saying it was able to provide "quick" justice while "rigorously adhering to the existing norms."