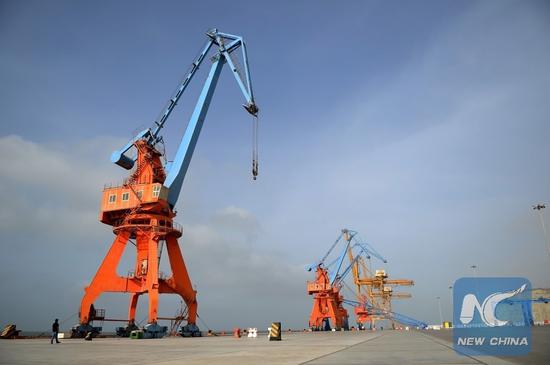 A view of Gwadar Port in southwest Pakistan. /Xinhua Photo
Chinese President Xi Jinping proposed the Belt and Road Initiative (BRI) in 2013, calling for economic cooperation focused on connectivity and aimed at achieving win-win outcomes.
The BRI is an example of China's determination to support globalization as the world faces uncertainties, such as rising protectionist forces.
The initiative has taken center stage at the Boao Forum for Asia (BFA) in the past few years. In 2015, Xi elaborated on the concept to Boao Forum's guests, saying countries along the route and from across the world are all welcome to join.
The BRI will help countries align their development strategies and form complementary plans, with no intention of replacing existing mechanisms or initiatives for regional cooperation, Xi told the forum in 2015.
At this year's BFA, the initiative is expected again to be a key topic. From a vision to reality, what has the Belt and Road Initiative brought to Asia as the region seeks to build a more closely integrated community?
From concept to reality
Named after the historic Silk Road, the BRI aims to chart new opportunities for international cooperation by building a trade and infrastructure network connecting Asia with Europe and Africa along the Silk Road's ancient routes.
Over the past five years, the BRI has become a reality: as of December 2017, China had signed over 100 cooperation agreements with 86 countries and international organizations.
Steady progress has been made in various projects: the Mombasa-Nairobi railway in Kenya has been put into operation, construction has begun on the Belgrade-Stara Pazova section of the Hungary-Serbia railway and the Khalifa Port in the United Arab Emirates. The operation of the Hambantota Port in Sri Lanka has also been transferred to a Chinese firm.
About 7,000 cargo trains have traveled on 61 railway lines since 2011, linking 36 European cities such as Hamburg and Madrid with 38 Chinese cities, including Xi'an, capital of northwest China's Shaanxi Province, and Yiwu, east China's Zhejiang Province.
The Asian Infrastructure Investment Bank (AIIB), a multilateral development institution of which Asian countries account for 75 percent of the shares, has supported numerous projects. Two years on, it's backed 24 projects scattered in 12 countries, with loans exceeding 4.2 billion US dollars.
Synergize with regional development plans
Thailand, a popular destiny for tourism, has lagged behind in term of modern transportation. The country with a population of less than 70 million received about 40 million tourists in 2016, yet only one train plied between Bangkok and Pattaya, two of Thailand's most popular cities, from Monday to Friday.
The country needed new infrastructure to fulfill its development potential.
In December 2017, under the BRI, China and Thailand jointly inaugurated the construction of the country's first high-speed railway from Bangkok to northeastern province of Nakhon Ratchasima, as part of the China-Thailand high-speed railway.
Similar infrastructure projects have also started in other Southeast Asian countries, including theJakarta-Bandung high-speed railway in Indonesia and China-Laos railway.
The initiative prioritizes infrastructure construction to fill gaps in investment that have greatly hindered Asia's development, while docking with regional development plans.
For example, China and ASEAN countries have agreed to explore synergies between the BRI and the Master Plan on ASEAN Connectivity (MPAC) 2025 for regional connectivity.
As a sub-region cooperation mechanism, China and the five countries along the Mekong River have launched the Lancang-Mekong cooperation to complement ASEAN in building an Asian community of shared future.
In South Asia, regional connectivity has been strengthened with the construction of major infrastructure projects, including the China-Pakistan Economic Corridor (CPEC).
According to a recent report, CPEC, which is expected to change Pakistan's business and economic landscape, has provided 60,000 jobs to Pakistanis since 2015 and is expected to create over 800,000 more by 2030.
Countries in other parts of the world have also linked their own development plans with the Initiative. As early as 2015, China and Russia agreed to align the BRI with the Russian-led Eurasian Economic Union (EEU) to enhance Eurasian partnership.
A community of shared destiny
Trade between China and Asian countries is significant: data from China's Ministry of Commerce shows that trade between China and 25 other Asian countries reached 1.17 trillion US dollars in the first 11 months of 2017, making up a third of regional trade.
China has become the largest trading partner of 16 Asian countries and has strengthened economic and trade integration with neighboring countries.
Last year, the BFA published the annual report on "Progress of Asian Economic Integration," identifiying unprecedented challenges the region was facing as a result of slowdown of Asia's trade and integration.
Major economies including China, Japan, and India have decreased trade dependence on Asia, the report states, adding that the region's players need to team up, abandon a beggar-thy-neighbor approach, and not let political differences hamper economic development.
Another annual report on the development of emerging economies provided Asian economies with a solution: the BRI has promoted economic and trade cooperation and has offered a new way to tackle the anti-globalization trend.
"Globalization is not an abstract concept. The Belt and Road Initiative proposed by President Xi Jinping three years ago is China's solution for globalization, which seeks to build a common destiny for human being through consultation, co-construction and sharing," Zhou Wenzhong, secretary general of Boao Forum for Asia, said in 2017.
"The Belt and Road development does not shut out, nor is it directed against, any party," Xi said at the Belt and Road Forum for International Cooperation in May in Beijing.
Another vision proposed by Xi – building a community with a shared future for mankind – has also gained consensus among the international community.
Xi has advocated practicing the concept while carrying out the BRI, adding the initiative has become a huge cooperation platform for countries concerned to realize their common development.
Philippine Finance Secretary Carlos Dominguez said the ongoing economic integration of ASEAN and China's plan to invest heavily in its trading partners' infrastructure via the BRI will shape the development of the region's economies.
"The nations of Southeast Asia stand to benefit hugely from the Belt and Road Initiative," Dominguez told a forum, adding that the BRI complements ASEAN's efforts at regionalization.
As the world faces a backlash against globalization, regional integration and multilateralism have suffered setbacks – cooperation platforms, like the Belt and Road Initiative, provide a route out of the predicament.