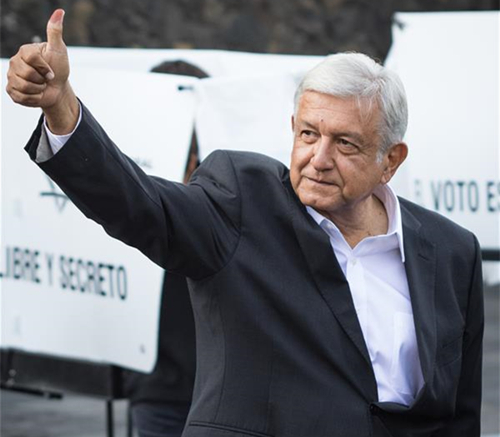 Andres Manuel Lopez Obrador, presidential candidate for the coalition "Together We Will Make History", shows his ink-stained thumb after casting his vote during the presidential elections, in Mexico City, capital of Mexico, on July 1, 2018. (Xinhua/Francisco Canedo)
Chinese Foreign Ministry (MOFA) on Monday congratulated Andres Manuel Lopez Obrador on his win in Mexico's presidential election.
"China wants to express its heartfelt congratulations to Mr. Lopez Obrador," said MOFA spokesperson Lu Kang, adding that Mexico plays an important role in Latin America, the China-Mexico strategic partnership of cooperation will become more substantial under the leadership of the two heads of states.
Andres Manuel Lopez Obrador, the leftist candidate, defeated three rivals, including the ruling party's, garnering between 53 and 53.8 percent of the votes, according to preliminary results.