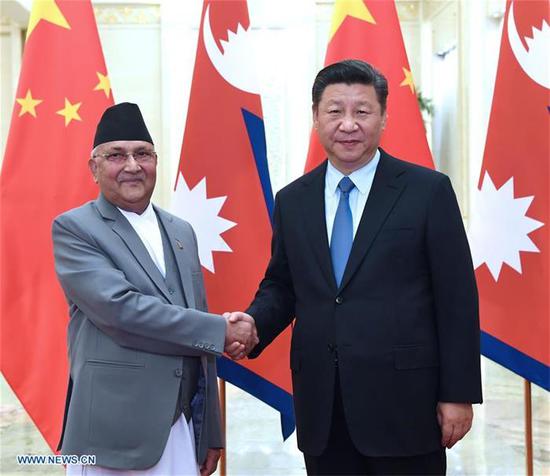 President Xi Jinping meets with Nepal's Prime Minister K.P. Sharma Oli at the Great Hall of the People in Beijing, capital of China, June 20, 2018. (Photo/Xinhua)
China would like to enhance cooperation with Nepal in such areas as infrastructure, post-earthquake reconstruction and trade and investment under the Belt and Road framework, President Xi Jinping said on Wednesday.
Xi made the remark while meeting with Nepali Prime Minister Khadga Prasad Sharma Oli at the Great Hall of the People in Beijing.
Xi said the China-Nepal relationship is facing new opportunities for development, and the two countries should enhance high-level exchanges, boost strategic communication, respect each other's core interests and strengthen the political basis of bilateral ties.
He called on the two nations to strengthen people-to-people exchanges, work together to improve the capacity of law enforcement, fight against cross-border crime and enhance coordination on major global issues.
China appreciates Nepal's adherence to the one-China policy and forbidding any political forces from engaging in anti-China activities on Nepali territory, Xi said.
China will continue to support Nepal in safeguarding its national independence, sovereignty and territorial integrity, Xi said, adding that China supports Nepal in selecting the development path that fits its own situation.
Oli called Xi a great visionary leader of both China and the world and a true friend of Nepal.
The Nepal-China relationship is a model for the ties between countries of different social systems and sizes, he said. Nepal admires China's progress in development, and speaks highly of China's positive role in global affairs, he added.
Nepal values Xi's proposal to build a community of a shared future for mankind, he said, adding that Nepal would like to proactively take part in building the Belt and Road.