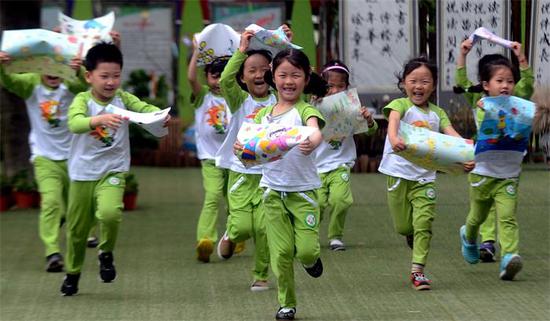 Kindergarten children show their paintings on Thursday to celebrate International Children's Day, which is Friday, in Yangzhou, Jiangsu province. (MENG DELONG/FOR CHINA DAILY)
President Xi Jinping encouraged children in Zhaojin, a former revolutionary base in Shaanxi province, to become useful people to the country ahead of International Children's Day, which falls on Friday.
Xi, also general secretary of the Communist Party of China Central Committee and chairman of the Central Military Commission, made the remark in a letter of reply to students at Beiliang Red Army Primary School on Wednesday.
The president said he was pleased to know that the children learn the revolutionary history of Zhaojin from the elderly people in the town and as a result feel proud of their home.
Zhaojin is a small settlement in a mountainous part of the city of Tongchuan in Shaanxi.
Xi said he hopes the children will learn more about the history of China's revolution, growth and reform.
He told the children to learn from heroes and role models, to love the Party, nation and the people, and to pass on the gene of revolution with practical action from generation to generation.
Beiliang Red Army Primary School in Zhaojin was left with only first to third grades after an adjustment in 2008. But it will be restored as a full primary school with both junior and senior levels in September. Students at the senior levels will not have to travel far for their studies, and they will have easy access to clean drinking water and hot showers at the school.
Xi said it's good that the students wrote in their letter that today's happy life did not come about easily.
He said he hopes the students will be grateful, value time and study hard, striving to be useful to the country, the people and society.
The president also mentioned his visit to Zhaojin in 2015, when he interacted with officials and other people there.
In the letter, the 51 pupils in second and third grades told Xi about their experience of learning revolutionary history and informed him of the latest developments at their school.
They also expressed their gratitude and determination to become productive people as soon as possible.