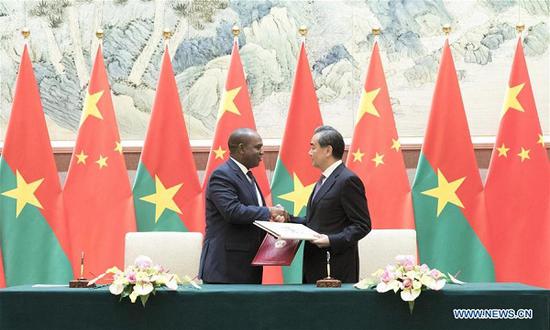 Chinese State Councilor and Foreign Minister Wang Yi and Burkina Faso's Foreign Minister Alpha Barry sign a joint communique to resume diplomatic relations between China and Burkina Faso, in Beijing, capital of China, May 26, 2018. (Xinhua/Wang Ye)
China and Burkina Faso on Saturday announced the resumption of diplomatic ties in a joint communique signed by Chinese State Councilor and Foreign Minister Wang Yi and Burkina Faso's Foreign Minister Alpha Barry in Beijing.
The communique said the resumption of the ties was in line with the interests and wishes of the people in the two countries.
The two governments agree to develop friendly relations based on the principles of mutual respect of sovereignty and territorial integrity, non-aggression, non-interference in each other's internal affairs, equality, mutual benefit and peaceful coexistence, the communique said.
The government of Burkina Faso recognizes that there is but one China in the world, that the government of the People's Republic of China is the sole legal government representing the whole of China, and that Taiwan is an inalienable part of China's territory.
The government of Burkina Faso promises it will have neither official relations nor official exchanges with Taiwan, it said.
The African nation announced a decision to sever its "diplomatic" relationship with Taiwan on Thursday.
At a press briefing after the meeting on Saturday, Wang Yi said China highly commended the government of Burkina Faso for making a right political decision.
According to Wang, the two sides agreed to enhance political trust and forge ahead friendly exchanges and cooperation in various fields to bring substantial benefits to the people of the two countries.
Chinese President Xi Jinping welcomes Burkina Faso's President Roch Marc Christian Kabore to attend the Beijing summit of the Forum on China-Africa Cooperation to be held in September and President Kabore has expressed his expectation for the summit, said Wang.
He said the resumption of China-Burkina Faso ties signified a step forward to a goal that all African nations will join in the big family of friendly cooperation between China and Africa.
Both China and Africa long for early realization of this goal, he said.
"Only one African country has not established diplomatic relations with China and we sincerely hope that this country could soon join in the China-Africa family of friendship," he said.