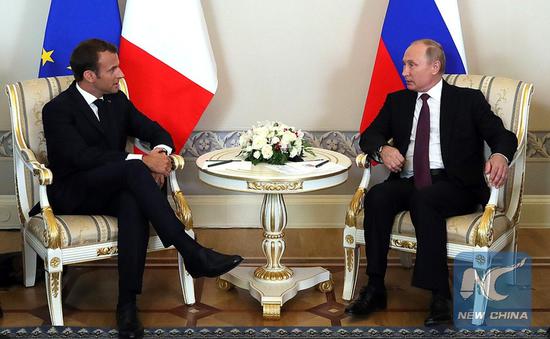 Russian President Vladimir Putin (R) and his French counterpart Emmanuel Macron hold talks in St. Petersburg, Russia on May 24, 2018. (KREMLIN PHOTO)
Russian President Vladimir Putin and visiting French President Emmanuel Macron on Thursday exchanged views on international issues including the U.S. withdrawal from the Iran nuclear deal, according to the Kremlin.
Putin and Macron discussed the situation of Iran, Syria and Ukraine and agreed to further develop bilateral relations, according to the statement from Kremlin.
"Particularly, we have exchanged views on the situation following the US unilateral withdrawal from the Joint Comprehensive Plan of Action (JCPOA) on the Iranian nuclear program," Putin said at a press conference after the meeting with Macron in St. Petersburg.
According to the Russian president, the Iran nuclear deal must be preserved as Tehran fulfills all commitments on the JCPOA.
"As for Iran, Russia's position is well known that we believe the JCPOA deal should be preserved," said Putin, stressing the consequences of terminating this deal can be very disastrous.
On the Ukraine issue, Putin said that Russia is ready to continue work on Ukraine conflict settlement in the "Normandy Four Format" and welcome dialogue at all levels.
Concerning the lately statement of the MH17 investigation team, Putin said that Russia will recognize the results only if it is allowed to join the probe.
The French president, for his part, said that France recognizes Russia's role in international relations, including in the Middle East.
"I also recognize the very role that Russia has now built for itself both in its immediate environment and in some other regions of the world, for example, in the Middle East", said Macron.
He said that France had already commenced talks with Iranian President Hassan Rouhani on the current situation and hoped that a broader framework agreement on Iran nuclear issue could be achieved in the future.
As for the U.S. sanctions against Iran, Macron said Europe must develop more efficient mechanisms to protect its economic interests.
Meanwhile, the two presidents vowed to work together and consolidate their efforts to seek solutions in all international areas.
A series of cooperation agreement were signed aimed at promoting Russian-French relations following the meeting of the presidents, according to the Kremlin.
French president Macron and his wife are in Russia for an official visit. He also participated in the ongoing St Petersburg International Economic Forum which kicked off on Thursday.