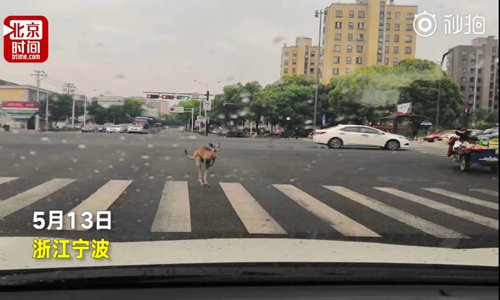 A kangaroo stands on the zebra crossing. (Screenshot photo/Btime)
A motorist in Ningbo, East China's Zhejiang Province got a surprise when he pulled up at a traffic light: a kangaroo had hopped into the road and stood on the zebra crossing.
The man snapped a photo of the strange sight and posted it on social media helping police to track down the Australian native which had escaped from the city's Youngor Zoo, the Southcn.com reported on Monday.
An employee of the zoo said two "roos" had jumped out of their enclosure after they got into a fight with each other. The employee had reported that the kangaroos might swim across the river beside their enclosure and go hopping through downtown.
The second kangaroo was found later and returned to the zoo. The incident made the rounds on social media. "Even kangaroos know to use the zebra crossing, how come people don't obey the traffic rules?" said a netizen whose sentiments represented the views of many other commentators.