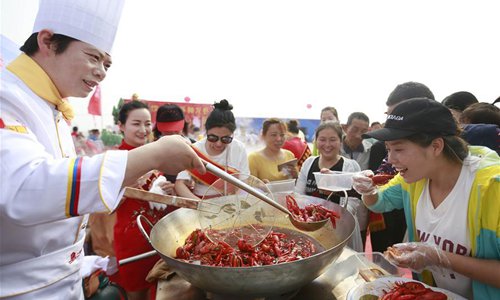 Tourists taste the crawfish in Mingzuling town of Xuyi county, East China's Jiangsu Province. (Photo/Xinhua)
A restaurant in Shanghai is seeking to hire workers with fingers nimble enough to peel three kilograms of crawfish an hour.
The restaurant's specialty is crawfish and serves single orders of 1.5 kilograms or more.
Some guests apparently rather not get sticky fingers or perhaps they can't peel the little aquatic animals as fast as they want to eat them.
One of the requirements of the crawfish peeler is the ability to resist the temptation of eating the fruits of their labor, according to a report in the Beijing News.
The posting for the crawfish peeling job has attracted a lot of interest from people looking for part-time job as it pays between 150 ($22) and 200 yuan for a minimum four-hour shift.
A college student surnamed Zhou, one of the part-time crawfish peelers, said she doesn't mind the job as she works on weekends, Kankan News reported on Monday.
A man surnamed Zhang who is also a frequent guest of the restaurant told the reporter of Kankan News, "I hate peeling crawfish because it is totally a waste of time, not to mention it gets my hands all sticky."
A woman surnamed Guo declined the help of a peeler after ordering 1.5 kilograms of spicy crawfish.
"Peeling the crawfish myself makes them more delicious," Guo said.
The restaurant charges its guests 20 yuan per kilogram, or a maximum of 50 yuan per order.