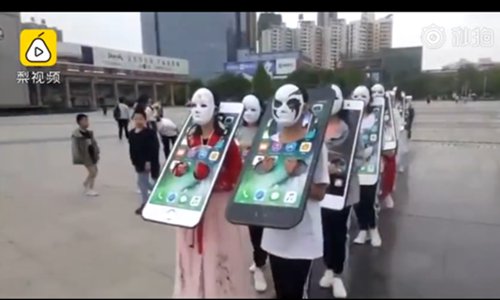 Students' heads and arms are in a pillory in the shape of mobile phones. (Screenshot photo/Pear Video)
Students in North China marched through a mall wearing grim-faced masks and their heads and arms in a pillory in the shape of mobile phones to warn people not to become "enslaved" by overuse of digital technology.
The students from Dongkang Middle School in Yuncheng, Shanxi Province launched the public awareness activity themed "healthy use of mobile phones" as directed by the school's principal, according to a video posted by Pear Video on Monday.
The principal said the purpose of the event was to appeal to students and parents to ease up on the time they spend starring at their mobile phones, and learn to enjoy life and family ties.
"Our performance art has had a great response, the public feels it is very creative," said the principal.
The students lined up single file in two rows as they did a funeral march through the mall, the Pear Video posted on Monday showed.
The girls wore traditional Chinese clothing, while the boys wore white shirts and black trousers.
"Many people are now bound to their mobile phones, so we should make sure we use them appropriately," said one netizen.
"Parents should set an example to their children because students do not have the ability to control themselves in using phones," one teacher of the school told the Pear Video.