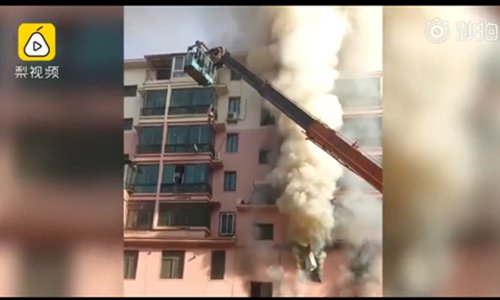 Lan Junze operates his crane to rescue people. (Screenshot photo/Pear Video)
A young man in Xinbin county, Liaoning Province is being hailed as a hero after he used his crane with a blue and huge basket to rescue 14 people who were trapped in a burning residential building in Northeast China.
The fire started in a grocery store on the first floor of a building, trapping residents in the seven-story building, according to a video posted by Pear Video on Sunday.
Lan Junze, 19, was operating his crane that was lifting workers who were installing exterior wall insulation on another building when he saw huge plumes of smoke coming from the nearby burning building.
"I immediately moved my crane when I heard someone call for help. I first was able to rescue a mother, her son, and a family of three, including a 79-year-old woman. I saved 14 people in total," said Lan in a video posted by Pear Video.
"I did not think too much at the time. I just wanted to save the people," Lan added.
"Lan risked his life to save us. He did not leave until he saved all of us, and we are very grateful," one of the people he rescued told the Pear Video.
The cause of the fire is still under investigation.
Many netizens said they were impressed with the young man's selflessness and prompt action.
"What a model during China's Youth Day! The young man saved all the trapped people and he deserves a reward for helping others," a netizen commented.
"The Avengers have another superhero. Craneman will save the world," wrote another Net user.
"It's amazing for such a young man to saved 14 people within such a short time," another Net user added.