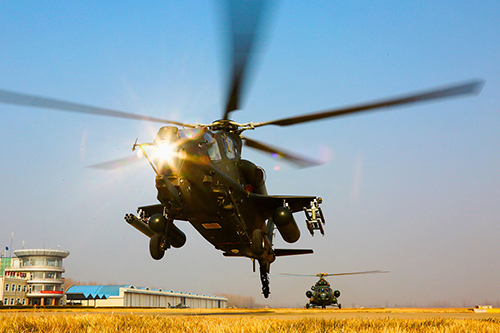 A Z-10 attack helicopter attached to an army aviation brigade under the PLA 80th Group Army hovers at low altitude for last-minute checks during the flight training on November 21, 2017. (Photo/eng.chinamil.com.cn)
China recently mastered a new fatigue-resistant technology for helicopter rotors, which could greatly expand the helicopters' capability and service time, a development which military experts said on Tuesday could be of strategic value to China's domestic helicopter industry as the technology could be used on China's future heavy-lift transport helicopters and attack helicopters.
During the development of an unidentified helicopter, engineers at Changhe Aircraft Industry (Group) Corporation Ltd under the state-owned Aviation Industry of China (AVIC) found that the newly designed rotor using a titanium alloy failed to pass fatigue tests, China Aviation News, a newspaper affiliated with AVIC, reported on Tuesday.
The company, cooperating with scientific research teams at Xi'an-based Northwestern Polytechnical University and the All-Russian Scientific Research Institute of Aviation Materials, then developed a new technique that helps reduce wear and tear on components, doubling their service time, the report said.
The anti-fatigue feature is important because rotor fatigue is not always noticeable, causing unforeseen dangers, the report said.
Wei Dongxu, a Beijing-based military analyst, told the Global Times that a fatigue-resistant rotor could also allow a helicopter to work under higher stress, including maintaining high speeds for extended periods or lifting heavier cargo for longer distances.
A titanium alloy is a strong metal and, together with the new technique, could make helicopters more reliable in difficult environmental conditions, including at sea and in the desert, analysts said.
The breakthrough took three years of research and is of important strategic value to China's domestic helicopter industry, the China Aviation News report said, noting that China had grappled with the key issues to independently make fatigue-resistant rotor wing components.
The new rotor could be used on China's future heavy-lift transport helicopters and attack helicopters, which need to perform extreme maneuvers in combat, Wei said.
AVIC has developed military helicopters, including the Z-8 transport helicopter and Z-10 attack helicopter, and is currently developing a 40-ton class heavy helicopter with Russia, according to media reports.
The heavy helicopter, dubbed Advanced Heavy Lift, would have a weight-lift capability of 15 tons, a range of 630 kilometers and a top speed of 300 kilometers an hour, RT reported.