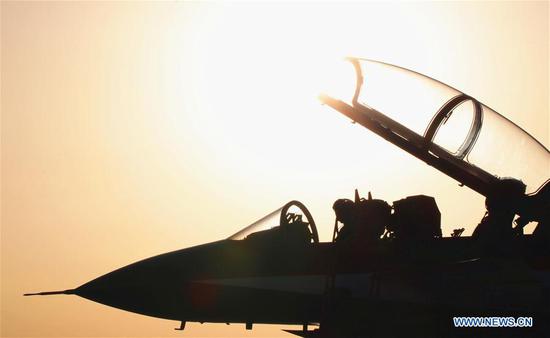 A J-10 fighter jet of the Chinese People's Liberation Army (PLA) Air Force's August 1st aerobatics team is seen at an airport in northwest China's Xinjiang Uygur Autonomous Region, Aug. 16, 2018. (Xinhua/Yu Yongde)
China's Defense Ministry on Friday issued a strong objection and reiterated its "defensive" policy, a day after the Pentagon claimed China's military might poses a threat to the U.S..
China's military has expanded its bomber operations in recent years while "likely training for strikes" against the United States and its allies, a Pentagon report released on Thursday said.
It said that while China's People's Liberation Army (PLA) had continued to extend operations, it was not clear what message Beijing was seeking to send by carrying out the flights "beyond a demonstration of improved capabilities."
China's Defense Ministry reacted quickly.
It issued a statement late Friday on its website, saying China's military strongly objects the report as it misinterpreted China's military strategy, exaggerated the rhetoric of the "China military threat" and provoked the cross-Strait relations. Beijing has brought up solemn representation to the U.S. side, the statement said.
China always adheres to the path of peaceful development with a defensive national policy, and it always contributes to world peace and stability by actively participating in peacekeeping, overseas escort and disaster relief missions, it said.
"China is taking more responsibility and providing more public security goods to the world, and it is applauded by the international society for making such efforts," the statement added.
China's military modernization is to strengthen its ability to defend its sovereignty and territory and to defend world peace, stability and prosperity, it stressed.
It went on to say that Taiwan is part of China, and it is an "iron fact." It called on the U.S. to stick to its longstanding "one China" principle.
The Pentagon report said China is deploying "increasingly advance(d) military capabilities – intended to coerce Taiwan" in a bid to prevent the island from pursuing independence.
The "Annual Report on Military and Security Developments Involving the People's Republic of China" is a U.S. government report mandated by Congress, which details Chinese military developments over the previous year.
Beijing warned such report is provoking and will damage the China-U.S. mutual trust, and urged the U.S. to abandon its Cold War mentality and to make real efforts to build bilateral military ties.