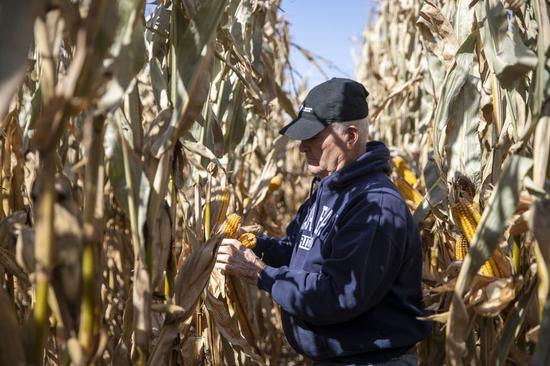 Farm owner Bill Pellett examines corn crops in a field of his family farm in Atlantic, a small city in the Midwestern state of Iowa, the United States, Oct. 14, 2019. (Xinhua/Wang Ying)
It was a sunny warm fall.
Bill Pellett, 71, wore all smiles while overlooking a combine harvester stripping the soybeans from the pod.
"The yields seem to be very good this year ... the trade with China hopefully coming back quickly, the prices should improve. And that's makes a farmer smile anytime that he can," the fifth-generation farmer from Atlantic, a city in the U.S. midwestern state of Iowa, told Xinhua.
TRADE RATHER THAN GOVERNMENT AID
For American farmers like Pellett, the harvest marks the end of the challenging growing season that began with too much spring rains which delayed planting this year.
"We are about a month later than what we would like to be to begin the harvest, so we have to worry about the days being shorter and the crops not drying as quickly as normal," said Pellett, who was racing against weather to get his crops out of the ground.
But he said local farmers are "more optimistic now" as their crops yields would be "10 percent to 15 percent better" than last year while "nationwide the yields will be down."
"We're in kind of the garden spot or the best spot of the United States. We are fortunate to get planted early. That's always beneficial to crops. We feel this year and our yield to be better than most people," he said.
"That would give us a gross revenue of about 800 U.S. dollars per acre for corn and 510 dollars an acre for soybeans," he added.
Pellett said the U.S.-China trade dispute is "one of the major bumps in the road" that American farmers have to "maneuver through."
"We do not like to have to depend on our governments for profits and losses. But you know, sometimes they have to be a stabilizing influence to get us through the bad times. And then they tax a lot when we have good times," he said.
The financial aid programs U.S. government set up to help farmers weather the trade tensions might be "necessary yet not so significant," Pellett said, noting that farmers prefer trade to aid.
"I think it (the aid program) is somewhere between 30 and 70 cents a bushel. The initial payments (I got) were around 20,000 to 25,000. We can spend that easily," he said.
MUTUAL RESPECT, MUTUAL UNDERSTANDING
Pellett said he felt encouraged by the news that the U.S.-China high-level economic and trade consultations on Oct. 10-11 in Washington D.C. concluded with progress in areas including agriculture, intellectual property rights, currency exchange rates, financial services, expansion of trade and technology transfers.
"So what we're hoping for this year is those trade negotiations get settled. We keep moving forward and don't let it ever happen again. That's the key," he said.
The markets indicated that "it is a good deal," he said. "So we will make sure it comes to fruition for both countries, because it is important to all of us."
"It's beneficial for both of us, because that's what the people need ... That is really important to our world," he said.
The veteran farmer said it would be "very difficult" to decouple U.S.-China economies. "We want to remain as trade partners."
"When you have the two largest economies in the world work together, we can do great things," he said. "We cannot let politics get in the way of our friendship."
The farmer said both sides should respect each other and "we cannot impose what we do on anyone," and "it is good to talk and understand the basic needs of each of us in the world move forward from that."
Pellett foresees better outcome for American farmers as "hopefully the U.S.-China trade negotiations will "add a lot of exports" for them.
"So let us say we want to smile, but we are going to smile very consciously until the politicians get it done," he said.