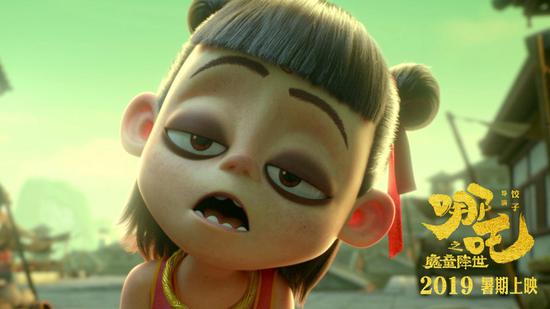 A poster for "Ne Zha." /Courtesy of Coloroom Pictures
Chinese animated film "Ne Zha," directed by Yang Yu as his first feature film, leads last week's box office chart.
Before its debut, it was hardly believable that a panda-eyed, buck-toothed and slouchy child could be the hero who melted millions of hearts, while simultaneously refueling the domestic film market this summer.
It is a born record breaker for animated films.
After its release on Friday, "Ne Zha" broke two records for the opening day of an animated film: the fastest to exceed 100 million yuan (14.5 million U.S. dollars) in box office earnings and the largest single-day total with over 200 million yuan (29 million U.S. dollars).
By the end of the first week, the film's box office exceeded 700 million yuan (101.5 million U.S. dollars). Maoyan, an online movie ticketing platform in China, predicted the film could pocket over 2 billion yuan (290 million U.S. dollars), which means it is now poised to overtake "Zootopia" as the highest-grossing animated film in China.
Ancient story, modern adaptation
The success of "Ne Zha" is largely owed to its depiction of the main character, Ne Zha – a child deity familiar to Chinese through ancient mythologies, literature and modern adaptations in films and television dramas.
He has been a rebellious child since his origin. But instead of fighting against patriarchy and monarchy as is depicted in the myths, Ne Zha in Yang Yu's film battles the bias of people who believe he is a born devil.
"I'm the captain of my destiny, not heaven" is one of Ne Zha's lines in the movie that has struck a chord with viewers, becoming a motto for many and making the rounds on social media. Though supposedly-born evil, Ne Zha chooses to sacrifice himself to save the villagers from death. By doing so, he grows into a hero instead of fitting into his doomed destiny.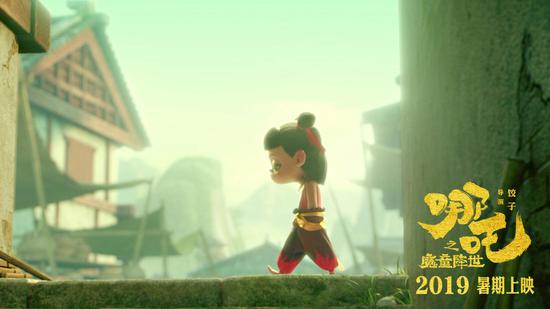 Another poster for "Ne Zha." /Courtesy of Coloroom Pictures
Other characters have been adapted with a modern point of view as well. For instance, Ne Zha's father, Li Jing, who is mostly known as the cold-blooded symbol of paternity, is depicted as a loving and caring father. His mother, Yin, is depicted more independently instead of staying invisible.
It took Yang Yu (widely known by his nickname, "Jiao Zi") more than three years to polish the script, and he wrote a total of 66 editions. It took 1,600 staff members from 20 companies to realize the visual effects.
Many have labeled "Ne Zha" as a new milestone in the rise of domestic animated films. However, Yang sees it as a new challenge to the industrialization of Chinese film production.
"Rising is a process, not a moment," said Zhang Runhua, CEO of Bigbigsun, one of the main production companies behind "Ne Zha."
As of Monday evening, "Ne Zha" had exceeded 890 million yuan (129 million U.S. dollars) at the box office, with a score of 8.7 on China's film rating website Douban. The myth continues for the child deity.
Something old, something new
The remaining four films on the weekly box office chart are older. Family comedy "Looking Up" trailed "Ne Zha" with a total box office take of 760 million yuan (110 million U.S. dollars).
The third place is still occupied by Disney's "The Lion King," which swept over 796 million yuan (115 million U.S. dollars) in total, but only 118 million yuan (17.1 million U.S. dollars) from last week. Hong Kong film "The White Storm 2: Drug Lords" followed with 86 million yuan (12.5 million U.S. dollars) in earnings.
he only new addition to the chart is "The Bravest," which is set to debut on August 1. It is a rare representation of firefighters. The film has already earned 53.4 million yuan (7.75 million U.S. dollars) in ticket presales.
A number of new films will hit the box office this week, such as "Ride Your Wave," an animated film by Japanese animator and film director Masaaki Yuasa. It won the Golden Goblet Award for Best Animation Film at the 2019 Shanghai International Film Festival.
Next week, another highly-anticipated domestic sci-fi film, "Shanghai Fortress," will meet audiences at last. It could be another blockbuster to boost this summer's domestic film market.