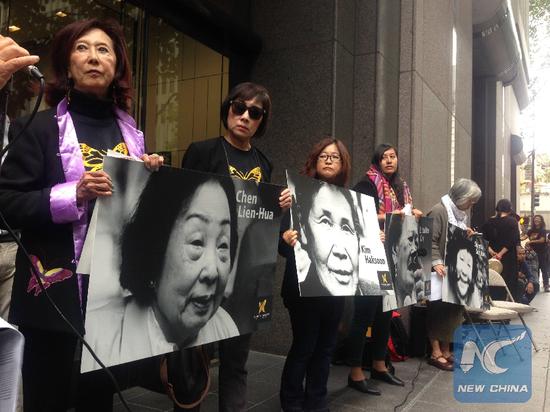 File Photo: Representatives of grassroots community organizations hold pictures of "Comfort Women" during a rally on the sidewalk in front of Japanese Consulate General in San Francisco, the United States, on Aug. 14, 2017. The "Comfort Women" Justice Coalition organized a rally here to mark the International Memorial Day for "Comfort Women". (Xinhua/Xu Yong)
"As Japan resists and denies, the more news is generated in this regard, and the more likely the truth will be finally told to all," said Phyllis Kim, executive director of the Korean American Forum of California (KAFC).
Kim made these remarks in an exclusive interview with Xinhua on Monday regarding her group's most recent achievement -- distributing a teacher's resource guide about "comfort women," the history of some 400,000 Asian women who were forced into Japanese military-run brothels during World War II, to school districts in the Golden State.
Efforts to have Japan acknowledge this horrific historical event have been ongoing since World War II ended, but have seen little traction and no official recognition from Japan.
But that is all changing, thanks to a small group of determined Asian women from California.
Two nonprofit groups, the Korean-led KAFC, and the Comfort Women Justice Coalition (CWJC) which is led by recently retired judges Lillian Sing and Julie Tang, both of Chinese descent, are spearheading efforts to inform the world.
Sing, a highly regarded San Francisco Board of Supervisors judge for 32 years, intentionally resigned in 2015 on the day before a public hearing was held to adopt a resolution to set up a memorial statue to the comfort women. She was moving on to a higher calling.
Sing and Tang joined forces that year, starting the CWJC, who joined their Korean sisters at the KAFC to push American education toward telling the truth.
This month, four years of work by these pioneers were realized in the distribution of a 45-page booklet called "Comfort Women Education" to teachers throughout California.
The comprehensive booklet resembles a master's thesis -- with first-hand accounts, references, photos and facts. The KAFC and the CWJC have already distributed 1,000 hard copies of the lesson plans and booklets to history teachers across the state.
"We're really glad that California was the first state to adopt the comfort women education," Kim told Xinhua. "We hope other states will follow."
The 2019 introduction of "comfort women" to the 10th grade world history curriculum by the CWJC and the KAFC marked that their long effort finally paid off.
Three years ago, California's State Board of Education approved "comfort women" education in California public schools, and Kim told Xinhua that they were thrilled the truth has finally prevailed.
"We need to do that in order to make sure that this kind of history will never be repeated again," Sing said.
The guide also contains the text of a congressional resolution asking the Japanese government to acknowledge, apologize for and accept responsibility for its comfort women system.