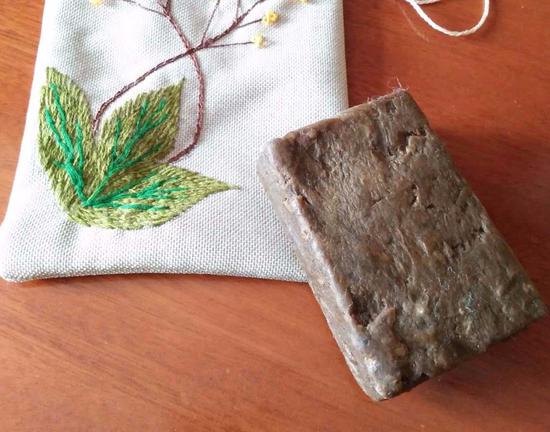 A piece of black soap and its packing bag made by Kazakh women in a soap-making workshop in Qinghe county, in the Xinjiang Uygur autonomous region. (Photo/China Daily)
Special: Belt and Road Five Years
Mother-of-eight Ahmantai Erjanhan has been making black soap, a natural product made from plants and animal oil, for almost 50 years, but it was only in June - at age 70 - she decided to use her traditional skills to start a business.
Erjanhan, who is from the Kazakh ethnic group, runs a soap-making workshop in Qinghe county, in the Xinjiang Uygur autonomous region, and employs 12 villagers.
To start the business, she received support from experts at Green Xinjiang, an ecological conservation and sustainable development NGO based in Urumqi, the regional capital.
As a nomadic people, the Kazakhs developed a way of living on the grasslands and invented many daily necessities, one of which was black soap. It is 100 percent natural, so the production process does not pollute the environment.
Erjanhan said her family used to be extremely poor.
Before she learned to make black soap, their clothes were washed by hand in water and beaten with wooden sticks. It did not make the clothes clean and they wore out quickly due to the rough treatment.
"At first, black soap was mainly used in my family," she said. "When it became easier to buy laundry products, fewer people produced black soap, as it's difficult to make. Gradually, it began to disappear."