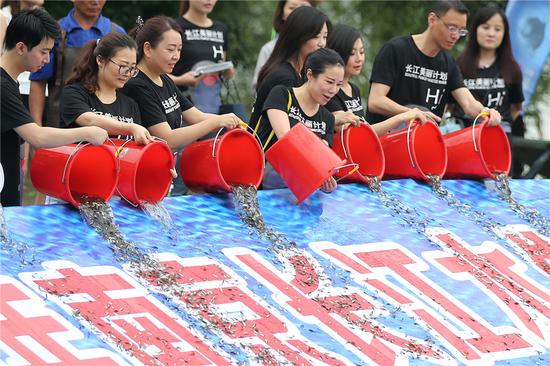 Nanjing residents send various types of young fish into the Yangtze River to restore the food chain by increasing the fish population, as part of a campaign to protect the finless porpoise. (YANG BO/CHINA NEWS SERVICE)
Special: Yangtze River Economy
Increased efforts made in Jiangsu to save endangered species
While most people rely on weather forecasts to tell them if strong gusts are on the horizon, Li Huarong can make accurate predictions just by watching finless porpoises in the Yangtze River.
"If many porpoises emerge together and a large percentage of their bodies breaches the water's surface, it indicates that strong winds are coming," he said.
"We used to refer to that phenomenon as 'finless porpoises worship the wind'," said Li, director of the finless porpoise protection association in Yangzhou, Jiangsu province.
"We had many finless porpoises in the Yangtze River. The fishermen gained enough experience to tell strong winds were coming by watching the porpoises. But now, you have to be lucky to see them."
Li said there are about 30 finless porpoises on the Yangzhou section of the Yangtze, especially near Sanjiangying. He and his team filmed some of the porpoises swimming with their heads above water on Aug 2, just before Typhoon Jongdari, the twelfth such weather event to hit the area this year, made landfall in the region.
Hu Chunbin, a member of the association, said it started to regularly patrol the Yangzhou section of the Yangtze in mid-July to protect the rare species, which remains in danger of extinction.