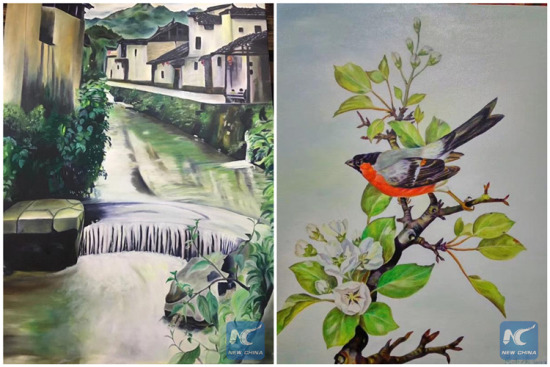 Paintings drawn by Huang Yuqing (Photo/Xinhua)
When there is no pig to slaughter, butcher Chen Aihui, 46, indulges herself by painting the old houses and wooden bridges of her village.
Chen lives in the remote village of Jixia in Pingnan county, east China's Fujian Province. In 2015, the monotony of village life was broken when a stranger popped up in the village claiming to want to teach villagers to paint.
Chanting the slogan "everyone is an artist," the stranger, Lin Zhenglu, invited everyone he met to join his workshop, but most of them were not interested.
"I thought he was either making fun of me or trying to swindle money out of me," said Chen. "Isn't it ridiculous to expect us bumpkins paint like artists?"
But Lin did not give up. To demonstrate his sincerity, he promised the locals free lessons with canvases and paints all provided.
To return his good faith, local farmers sent their children to Lin's classroom as summer vacation began. To their surprise, the children were making simple drawings within a few days.
Parents were even more shocked when, some days later, art dealers purchased the children's works for 200 yuan (32 U.S. dollars) a piece.
Soon the adults were signing up. Like most villagers, Chen found it difficult at first.
Sitting in front of an easel with a brush in hand for the first time, she was afraid to put any strokes on the canvas.
"I just felt that the paintbrush was even heavier than my butcher's knife," she said. "I was so nervous that my forehead was dripping with sweat."
Lin told her to "paint like you were killing pigs."
Once the first step was taken, she quickly fell in love with her new occupation and has finished nearly 100 pieces.
No perspective, no palette, no composition -- the only thing Lin told his students was to "paint whatever you want, however you like." The only requirement is to "cover every inch of the canvas with paint."
Weird as it may sound, the method worked. Soon, almost every household in Jixia boasted a painter, some of whom have made a fortune from the hobby. Farmers converted their houses and barns into studios.
Huang Yuqing, Chen's neighbor, has made over 20,000 yuan selling her paintings, more than she ever earned from her grocery store and barbershop.
With the money, she bought a smart phone and began to sell her work through social media like Wechat. Now her works sells for up to 3,000 yuan.
But it is not just about money -- the practice has also helped villagers develop taste for art and enriched their lives.
"Few people now play mahjongg like before, as we are all too busy painting in our spare time," said Huang.
The remote village soon rose to fame. Each weekend, art dealers, professors, foreigners -- curious city dwellers from all over the country come to Jixia. Some stay for months to paint and live with the locals, as an escape from the weariness of urban life.
Huang has even picked up some English. "I am happy to make friends with these people," she said. "Painting is our common language."
Some young people who left the village looking for jobs are coming back.
Yao Yuanyuan, who worked in a tech startup in the coastal city of Xiamen, returned and took up painting. Now she is a teaching assistant in Lin's workshop.
A coffee shop opened in the middle of a block of old houses in the village to cater for visitors' taste, but occasionally village housewives also patronize the place with their toddlers in the arms, getting a taste for the "exotic" drink.
"For the villagers, painting is a key to building confidence," said Lin. "Art empowers and enables the weak to become strong."
Gao Jinmei, now 84 years old, was dragged out of her sickbed by Lin to join the workshop a year ago. Now she has produced more than 300 pieces, and earned more than 10,000 yuan.
"Painting is the best cure for my high blood pressure," said Gao. "I feel more like 18 than 80!"
Lin believes that his program is about the "emancipation of humanity" in rural areas. He aspires to spread his work to all villages in Pingnan in the next five years.