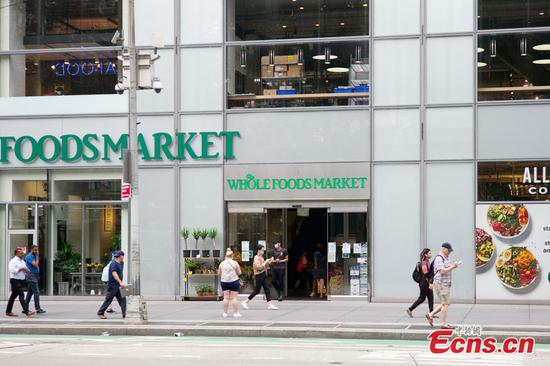 People walk past a Whole Foods Market store in New York, U.S., July 13, 2021. (Photo: China News Service/Wang Fan)
The U.S. economy has continued to strengthen with moderate to robust growth since late May, but supply-side disruptions have become more widespread, according to the Federal Reserve's July Beige Book report.
"Supply-side disruptions became more widespread, including shortages of materials and labor, delivery delays, and low inventories of many consumer goods," the report said, adding that "the outlook for demand improved further, but many contacts expressed uncertainty or pessimism over the easing of supply constraints."
On employment and wages, it stated that three-quarters of districts reported either slight or modest job gains and the remainder reported moderate or strong increases in employment. It also found that wages increased at a moderate pace on average and low-wage workers enjoyed above-average pay increases.
The report also noted that prices increased at "an above-average pace," with seven of the Fed's 12 districts reporting strong price growth and the remaining areas seeing moderate gains.