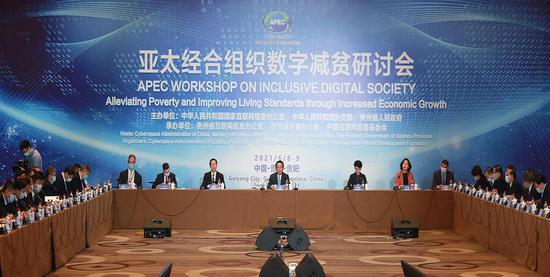 The APEC workshop on inclusive digital society was held on Tuesday and Wednesday in Guiyang, Guizhou province. (Photo by Chen Peng/For chinadaily.com.cn)
An APEC workshop on an inclusive digital society unfolded on Tuesday and Wednesday in Guiyang, Guizhou province, in a bid to discuss the role of digital technologies in eradicating poverty.
The two-day event established as its purpose the sharing of experience in poverty alleviation and suggestions for improved living standards through the digital economy.
Sharing digital dividends, bridging the digital divide and further developing an Asia-Pacific community with a shared future through the digital economy would be discussed in the next symposiums, according to Qi Xiaoxia, director of the Global Cooperation Department of the State Internet Information Office
"The digital opportunity is really significant. The digital economy turns out to be a great driver of productivity and employment, income growth, which driving the prosperity of the region," Vangelis Vitalis, head of senior officials of APEC said in remarks during the opening ceremony via video link. He said the workshop would accelerate the implementation of the APEC internet and digital economy road map.
Krasna Bobenrieth, a senior APEC official from Chile, said that APEC attaches great importance to the inclusive development of the digital economy and has established a digital economy steering group to guide work toward innovation and technology-driven high-quality growth in the region. She hoped APEC's enhanced effort would improve citizens' digital literacy and share more dividends of digitalization.
Lu Yongzheng, head of the province's publicity department, told attendees that the China International Big Data Expo 2021, which was held in Guiyang two weeks ago, was fruitful and fully demonstrated that the digital economy meets the economic transformation needs for high-quality development and has unique advantages in narrowing the gap between the rich and the poor. Therefore, this event was of great significance for giving full play to the positive role of data and other new factors in promoting poverty alleviation and aiding rural revitalization.