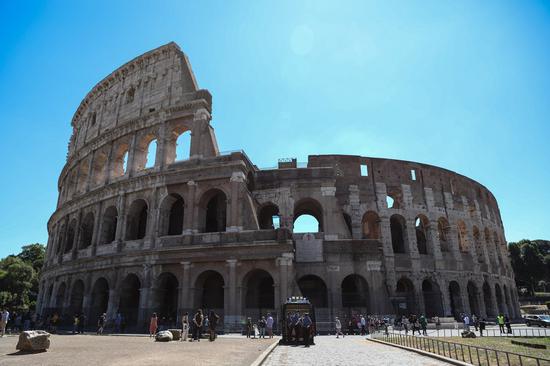 People walk outside the reopened Colosseum in Rome, Italy, June 1, 2020. The Colosseum monument reopened on Monday after having been closed since March 8, 2020 with adequate sanitary protection for staff and visitors, secure routes, compulsory reservations and modified schedules to avoid crowds at peak times. (Xinhua/Cheng Tingting)
With a 60-80 percent decline in international tourism foreseen for 2020, and a drop of between 910 billion and 1.2 trillion U.S. dollars in exports, over 100 million direct tourism jobs are at risk, the United Nations World Tourism Organization (UNWTO) warned on Saturday.
A joint statement, released by UNWTO and the Organization for Economic Cooperation and Development (OECD), said the COVID-19 crisis has devastated the tourism economy, with unprecedented effects on jobs and businesses.
"Tourism was one of the first sectors to be deeply affected by the COVID-19 containment measures, and with the ongoing travel restrictions and the looming global recession, it also risks being among one of the last to recover," the statement said.
Many tourism businesses are fighting to survive, with a disproportionate effect on women, young people, rural communities, indigenous peoples and informal workers, it said.
The COVID-19 crisis is also creating an even greater hardship for low-income and developing economies, and their local communities, which disproportionately depend on tourism and hence face a serious risk of higher poverty, the statement said.
On the eve of the G20 Tourism Ministers meeting under the Saudi Presidency, the OECD and UNWTO call for "strong and urgent action across three fronts to sustain millions of livelihoods," it said.
Tourism is a major driver of the world economy, accounting for 7 percent of international trade. Globally, tourism generates directly or indirectly one in every ten jobs, it said.
"This crisis is an opportunity to rethink tourism development. The recovery must involve transforming the sector, re-inventing tourism destinations and businesses, re-building the tourism ecosystem, and innovating and investing in sustainable tourism," it added.
The G20 is an international forum for the governments and central bank governors from 19 countries, including China, Russia, South Korea, Japan, and the European Union.