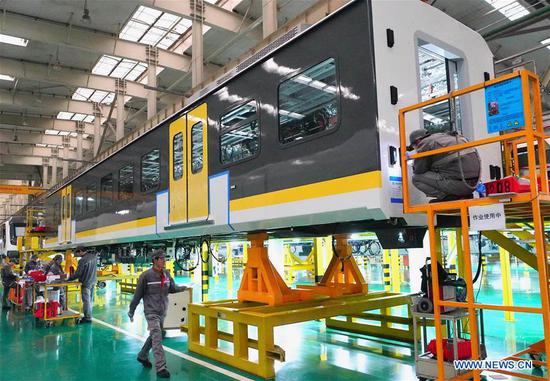 People work on a production line of CRRC Tangshan Co., Ltd. in Tangshan, north China's Hebei Province, Dec. 31, 2019. China's economy grew 6.1 percent year on year in 2019, within the government's annual target of 6 to 6.5 percent, the National Bureau of Statistics (NBS) said on Friday. (Xinhua/Yang Shiyao)
Since the very beginning, the steadily expanding Chinese economy has always enjoyed the company of both wild and informed guesses of its future status.
Among the forecasters, dyed-in-the-wool China doubters have proved their creativity over the past decades by churning out a myriad of "China collapse" theories embodied in keywords like "looming collapse," "hard landing" or "China's next big trouble" -- only to find their sensational claims collapse again and again.
The tenacity of China's economy received new confirmation as official data released Friday portrayed a steadily expanding Chinese economy in 2019 and key economic indicators pointed to a resilient recovery after a tough year of mounting external uncertainties and shifting gears of growth with extensive structural reforms.
With a year-on-year GDP growth of 6.1 percent and GDP per capita exceeding 10,000 dollars last year, the country achieved a new milestone in its development, something many have failed to recognize.
Based on data released by the World Bank in 2018, there were around 1.5 billion people with a per capita GDP above 10,000 dollars. As the per capita GDP of China, a nation with 1.4 billion people, exceeds 10,000 dollars, the new figure will push 3 billion people, helping to further uplift the whole world.
China is not deliberately pursuing particular GDP numbers but is after reasonable economic growth with quality and efficiency. Still, many critics lost no time in fixating on hyping China's growth "hitting new lows" and peddling their stale doom-and-gloom prognostications once again.
Judging an economy and market of such a large size purely by its moderate GDP growth misses more important facts of its underlying strength and potential. Rich opportunities await, not dangers.
Despite the downward pressure and damaging trade tension throughout the year of 2019, Chinese people stayed sanguine about their future. For each day in 2019, 20,000 new businesses were registered as entrepreneurial enthusiasm ran high. Market vitality stayed unabated, with private firms contributing more significantly to foreign trade, job creation and technical innovation. Economic restructuring and upgrading continued to power ahead.
Undeterred by greater competition from overseas market players, local companies supported their government's market-opening decisions, embracing challenges by expanding spending on research and development, optimizing industrial chains by cutting production costs and accepting short-term limits on profitability for long-term growth.
Sadly, the promising changes taking place in China, if not simply ignored, will likely be misinterpreted as part of China's ill-motivated ambition under the "China threat" or "China demise" theories -- the other side of the "China collapse" doctrine. After all, it is beyond the understanding of some people to properly rate an economy that used to develop at a blistering speed and then steadfastly holds strong amid a slowing global economy.
As British scholar Martin Jacques once noted, the biggest desire for the West has been to understand China through the Western prism, which is why the Western perception and prognosis of China is so frequently wrong. Most China bears tend to short China simply because China does not have the Western model of "democracy" or the type of freewheeling economy they are familiar with.
In fact, foreign scholars of different schools are more enthusiastic about decoding China's economy and trying to figure out and apply solutions proved effective by China's economic development. They are broadening the horizon of economic theories, as new lessons offered by China may help better address developing issues unexplained by conventional wisdom.
In highlighting the significance of the Chinese mode of social governance to the world, British sociologist Martin Albrow once said at a forum in China: "If experience is the true source of knowledge, it is from you that we should be learning."
To give the devil his due, the "China collapse" theories are not without their merits: They keep reminding China about the importance of constant self-improvement. When China achieves the first centenary goal of completing the building of a moderately prosperous society in all respects this year, it will embark on the next great journeys: from 2020 to 2035, working to basically realize socialist modernization; from 2035 to the middle of the 21st century, developing into a great modern socialist country.
History is an ever-winding journey, and China and its people are not afraid of the wind and the rain, nor any kind of difficulties. Before the biased bearish fortune-telling is finally put to rest, it can well serve as a footnote to the rise of the world's most populous developing nation whose peaceful and open development will bring more benefits to the whole world.